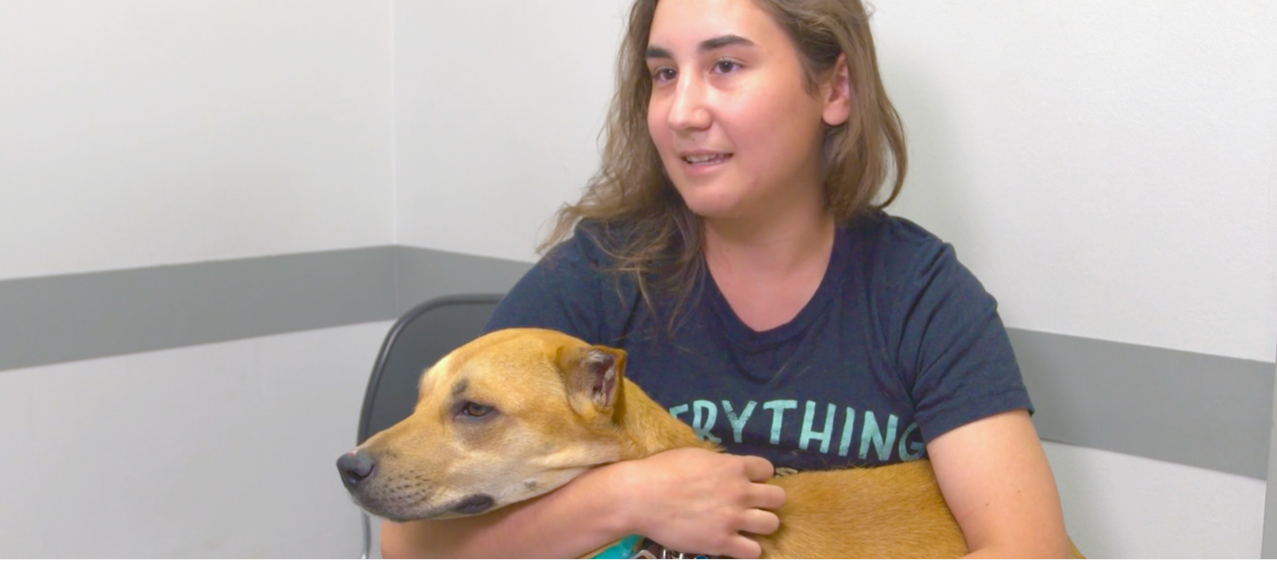 Across the country, each year, millions of homeless pets are getting a second chance with loving adoptive families. Finch, a mixed-breed pup from Mexico, is one of the lucky ones. But Josie, who adopted Finch from a local rescue, would argue it was Finch who rescued her.
"He's the first face I see every morning and the last face I see every night. He's just my best friend," says Josie.
A few months after adopting, unhealed wounds from Finch's sordid past began to surface. Finch was rescued from a dogfighting mill when he was six months old, he had a broken leg and several other wounds treated by the shelter prior to adoption. But, some of the damage went beyond what the eye could see.
"One day he stopped eating and then he stopped walking and I didn't really have a whole lot of options," recalls Josie. "I had to have the really tough conversation with myself of like, I love him enough to know that I can't afford surgery for him, so I'm going to have to let him go."
Josie is among millions of loving pet parents who face impossible decisions due to a countrywide lack of veterinary resources.
An estimated 50 million pets don't have access to care.

An injured or ill pet not having access to veterinary care may experience prolonged recovery, distressing the family. Too often, a lack of access to veterinary care breaks up the family because the pet is relinquished to a shelter or dies prematurely, according to reports by the Access to Veterinary Care Coalition (AVCC).
No pet owner should have to decide between their own well-being or their pets. That's why we provide our partners with the funds they need to help pets with families in communities just like yours with access to veterinary care. This year alone, we've committed $12 million to remove barriers to care in an effort to make the world a better place for all.
We can't solve this on our own. Make your gift today to keep families like Josie and Finch healthy, happy, and together.