Over 90 cents of every $1 goes directly to help pets
And those who love them
Since 1994, we've provided more than $500 million in grants to nonprofit groups throughout North America. This helped more than 10 million pets find adoptive homes and provided emergency relief assistance to more than 330,000 pets.
For 18 years...
We've earned a four-star rating from Charity Navigator, their highest rating, and we remain in the top 1% of all charities ranked.
We invite you to review our financial report on GuideStar. The national database of charitable organizations gathers and distributes data on nonprofits recognized by the Internal Revenue Service.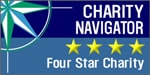 U.S. Annual Reports and Financial Statements by Year
U.S. Forms 990 by Year