Finding lifelong, loving homes for all pets by supporting programs and thought leadership that bring people and pets together.
PetSmart Charities, Inc. is committed to finding lifelong, loving homes for all pets by supporting programs and thought leadership that bring people and pets together. Through its in-store adoption program in all PetSmart stores across the U.S. and Puerto Rico, PetSmart Charities helps to find forever homes and families for more than 500,000 shelter pets each year. PetSmart Charities also provides grant funding to nonprofits aligned with its mission under four key areas of support: Preventing Pet Homelessness; Helping Shelter Pets Thrive; Supporting the Bond Between People and Pets and Providing Emergency Relief and Disaster Support.
Each year, millions of generous PetSmart shoppers help pets in need by donating to PetSmart Charities using the PIN pads at checkout registers inside PetSmart stores. In turn, PetSmart Charities efficiently uses more than 90 cents of every dollar donated to fulfill its role as the leading funder of animal welfare in North America, granting over $350 million since its inception in 1994. Independent from PetSmart Inc., PetSmart Charities is a 501(c)(3) organization that has received the Four-Star Rating from Charity Navigator, a third-party organization that reports on the effectiveness, accountability and transparency of nonprofits, for the past 15 years in a row – placing it among the top one percent of charities rated by this organization. 
PetSmart Charities is the leader in pet adoptions – finding homes for more than 500,000 dogs and cats each year.
2 out of every 10 adoptions in North America are facilitated through PetSmart Charities.
Adoption centers are located in nearly every one of PetSmart's more than 1,600 stores.
PetSmart's founders chose not to contribute to pet homelessness by selling dogs and cats in their stores. PetSmart Charities was created in 1994 to link people with local shelter pets in a friendly, convenient environment.
PetSmart Charities is the largest funder of animal welfare efforts in North America, supporting community efforts in all 50 states and Canada. We:
provide $45 million in funding each year to nearly 4,000 animal welfare groups
provided over $14.7 million in spay/neuter funding, resulting in well over 200,000 surgeries
assisted more than 65,000 pets through emergency relief efforts in 2017
PetSmart Charities is a nonprofit animal welfare organization, separate from PetSmart, Inc. and committed solely to improving the well-being of pets.
PetSmart is our largest corporate donor, including valuable retail space for PetSmart Charities Adoption Centers.
PetSmart Charities saves more pets lives than any other animal welfare organization because of our reach and collaborative approach.
Pet homelessness is a complex problem requiring local and national solutions, including diverse public-private partnerships to achieve the greatest impact.
PetSmart Charities has received Charity Navigator's top 4-star rating for 15 years in a row. We are ranked in the top 1% of charities nationwide.
Download our logos:
Download a video about us:
Leadership Team
Acting President and Chief Operating Officer
Deborah Turcott
Deborah is an experienced executive whose career has focused on strengthening mission-driven nonprofit and public organizations. Her role as Acting President brings to life her innate passion and an area of personal pursuit: animals influencing lives and communities for the better.
meet the team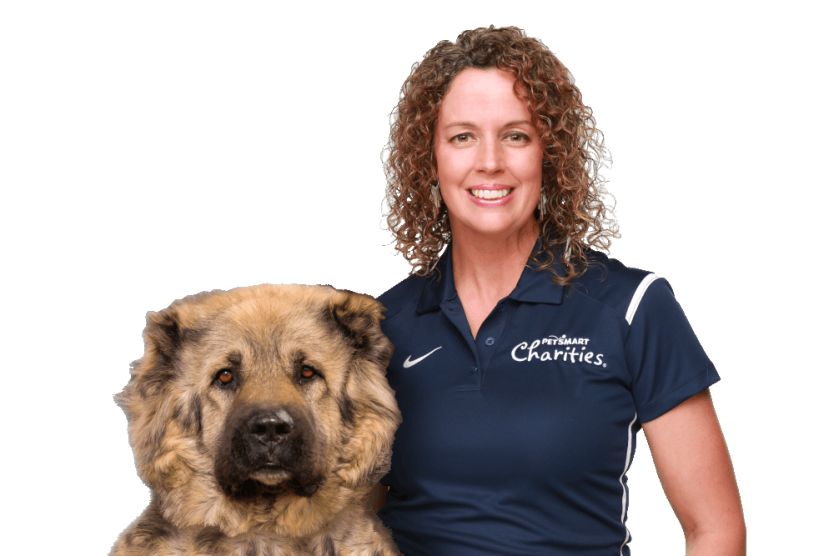 Where Your Dollars Go
See our full financial profile and learn how we've earned Charity Navigator's highest rating 16 years in a row
Contact Us
For PetSmart Charities and PetSmart, Inc. news inquiries or in-store media requests please contact the 24-Hour Media Hotline.