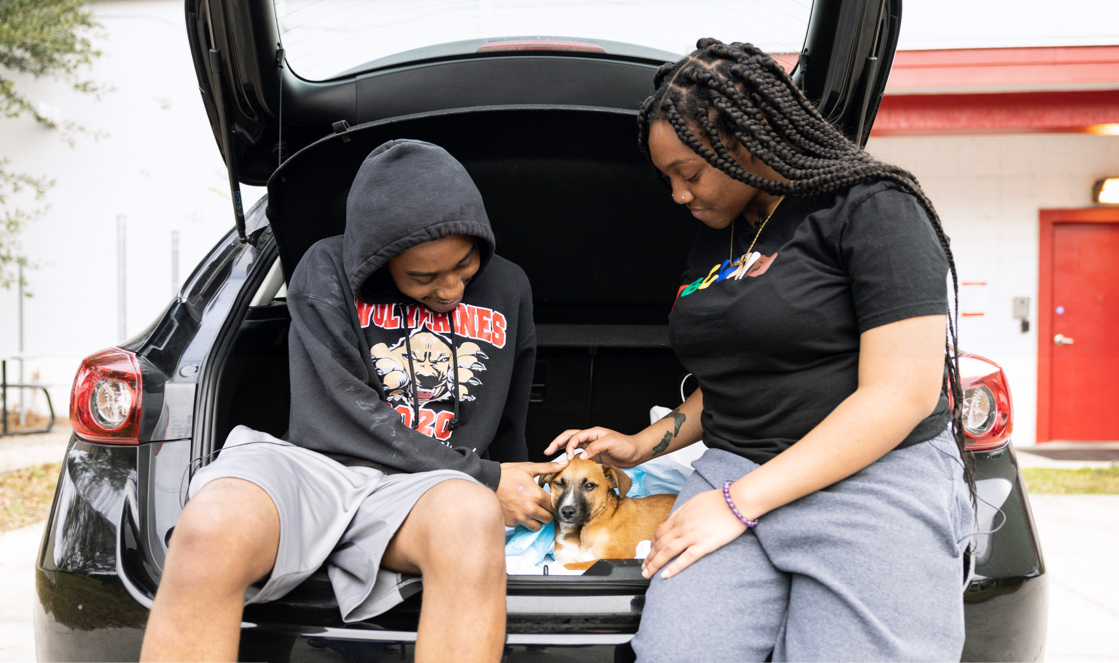 Joshua didn't have plans for a puppy. But, when Dudog, a young mixed-breed pup, made his way to Joshua's home, he also made his way into Joshua's heart.
"A roommate of mine told me about a dog left in an abandoned home and asked if I wanted it. I said yes, and now he's part of my family," explains Joshua.
Soon after deciding to become his forever parent, Dudog became very ill. A trip to the nearest veterinarian confirmed that Dudog was Parvo positive.
"He was throwing up and woke me up from my sleep one morning; he had diarrhea, lack of energy, real lethargic, not puppy-like."
The diagnosis broke Joshua's heart on many levels. Not only was he experiencing his beloved pet endure pain, but the costs for the unexpected veterinary care were more than Joshua could handle.
In his frantic search for help, he was referred to a PetSmart Charities® partner and grant recipient—First Coast No More Homeless Pets (FCNMHP). Thanks to our investment, the Feltons received complete Parvo care for Dudog. They also equipped him with the necessary resources to give Dudog the best chance at a full recovery. Even though Covid restrictions were still in effect, causing the clinic to have limited space for Parvo clients, the team at FCNMHP found a way to help. They created a makeshift exam room from Joshua's vehicle, ensuring the pup was comfortable and able to be treated.
This grant gives dog parents like us an opportunity to take care of our pet, to keep them healthy. It means a lot. We just couldn't do it without this grant and what PetSmart Charities is doing for pets and families.

Thanks to the generosity of our donors, we've committed $15 million this year to support programs that bring affordable and convenient veterinary care to communities across the country. Together with our community partners, we're also developing community-based leaders to transform how, where and by whom veterinary care is delivered. Over time, new ecosystems will emerge that provide an updated veterinary care system that is more accessible for diverse populations.
Your support gave Dudog a second chance at a better life. Having made a full recovery, Dudog and Joshua can move forward with their journey together and enjoy many happy memories for years to come.