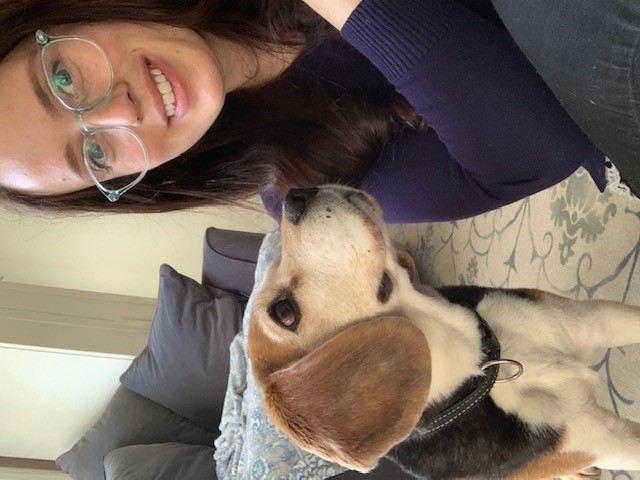 Charlotte, a PetSmart Charities of Canada Associate, with her foster dog Jesse
For those who work at PetSmart Charities, having a love of pets is somewhat of a pre-requisite for the job. So, it comes as no surprise that when the coronavirus pandemic caused a requirement for Canadians to stay at home, Charlotte Palmer, Associate Relationship Manager for PetSmart Charities of Canada, wanted to spend the extra time at home helping a pet in need. Her local Humane Society had been working to find foster families for all the pets in their care as the shelter was set to close its doors to the public and temporarily halt all adoptions. As a foster volunteer for the Guelph Humane Society in the past, the idea of having a pet stay with her while waiting for a forever family was one she was familiar with. "I have been fostering for about 2 years now," says Charlotte. "I usually foster rabbits, but because of the impacts on the shelter from COVID-19, they were looking for foster families for the dogs who would normally stay at the shelter. I thought it was such a great opportunity since I am now working from home and can be available all day."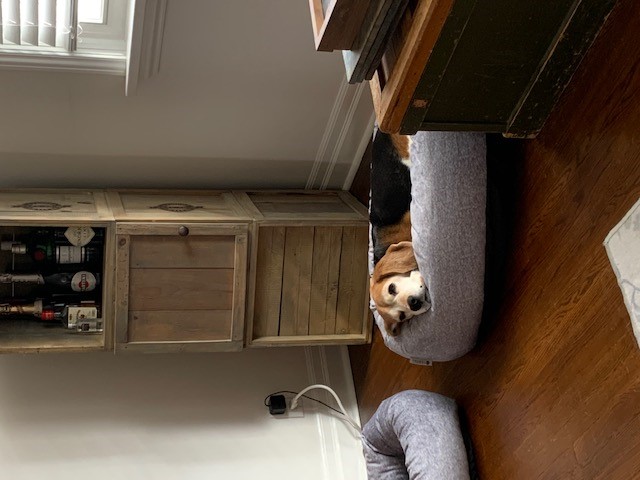 Foster dog Jesse enjoying the comforts of home. 
Charlotte and her husband Rob have opened their home to foster Jesse, a 9 year old male beagle who has been at the shelter since July of 2019. It was fairly easy to see that Jesse was the perfect match for Charlotte's family, which already includes Jonesy, an 8 year old beagle mix, and Mio, and 8 year old Shih Tzu mix who was adopted from the Guelph Humane Society 7 years ago. "Jesse is just the sweetest guy. He follows me around the house and crashes my conference calls with his loud snoring," laughs Charlotte. "He settled in pretty quickly and has adjusted well. He has quickly learned where everything is in the house and has used his beagle nose to sniff out where the food is stored! He's a pretty quiet beagle, he loves napping and long walks around the neighbourhood."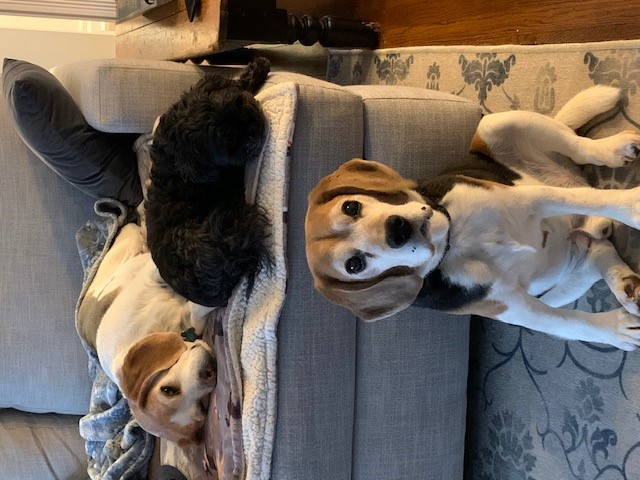 Making room for one more! Foster dog Jesse with his foster brother Jonesy and foster sister Mio. 
Just as Jesse has adjusted to his new foster family, Charlotte and her family have also adjusted quickly to the additional pet in their home. As Charlotte points out, they may not have been able to take on an additional foster pet without the extra time spent at home due to the pandemic. Many shelters and rescue organizations across the country have seen an increased interest in fostering and adopting as Canadians have opened their hearts and homes to homeless pets while self-isolating. "I'm just glad we were able to give Jesse a comfortable place to stay," explains Charlotte. "As it turns out, I have an unusually high number of dog beds in my home. He's tested out each and every one and quickly found his favourites. Luckily, the other dogs have welcomed him too and are sharing their beds and toys."
We are so happy that Jesse has found a happy spot to hang his leash and a comfy place to sleep during this uncertain time for humans and pets alike. If you would like to learn more about fostering or adopting, reach out to your local Humane Society or rescue organization.
To learn more about the Guelph Humane Society and the updates they have made to their services in response to COVID-19, visit https://guelphhumane.ca/covid-19-updates/