Your adoption: as unique as you and your pet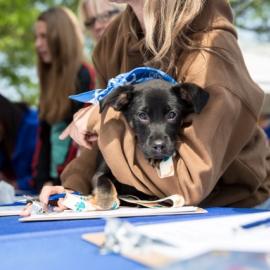 When you adopt from PetSmart Charities, you're doing more than just finding a great pet. You're helping PetSmart Charities invest in your community.
That's because we partner with thousands of local adoption groups that provide the dogs and cats you see in PetSmart stores and at our events. And when you adopt one of these pets, we pay the partner group a small fee, which helps them save another pet's life.
Working together, we can solve the pet homelessness problem — starting with your community. 
The process: here's what to expect
Each adoption center or event takes on the local flavor of its community and adoption partners. That means the process will be slightly different depending on where you go. But there are some common things you can expect:
An interview. Once you've chosen the pet who seems right for your family, you'll meet with a representative from the local adoption group. They'll ask you some questions to make sure that the pet is a good match for your home and will make you and your pet happy for many years to come. They may also have valuable information for you about the pet's personality, medical history and habits.
Some paperwork. You will fill out an application and pay a reasonable adoption fee, which is usually set by the adoption partner. It's a good idea to reserve 30 minutes to up to 2 hours to complete the interview and paperwork. 
Taking your pet home … soon. In many cases, you'll bring your pet home the same day. But there are some adoption partners that require a background check and/or home visit to ensure the pet's long-term safety. Ask your adoption representative about this at the beginning of the process if waiting a few days is not what you had in mind. Another PetSmart store in your area may have a partner that does same-day adoptions.   
Resources to find your new pet now 
Adorable pets are waiting to meet you today. To get started, you can: