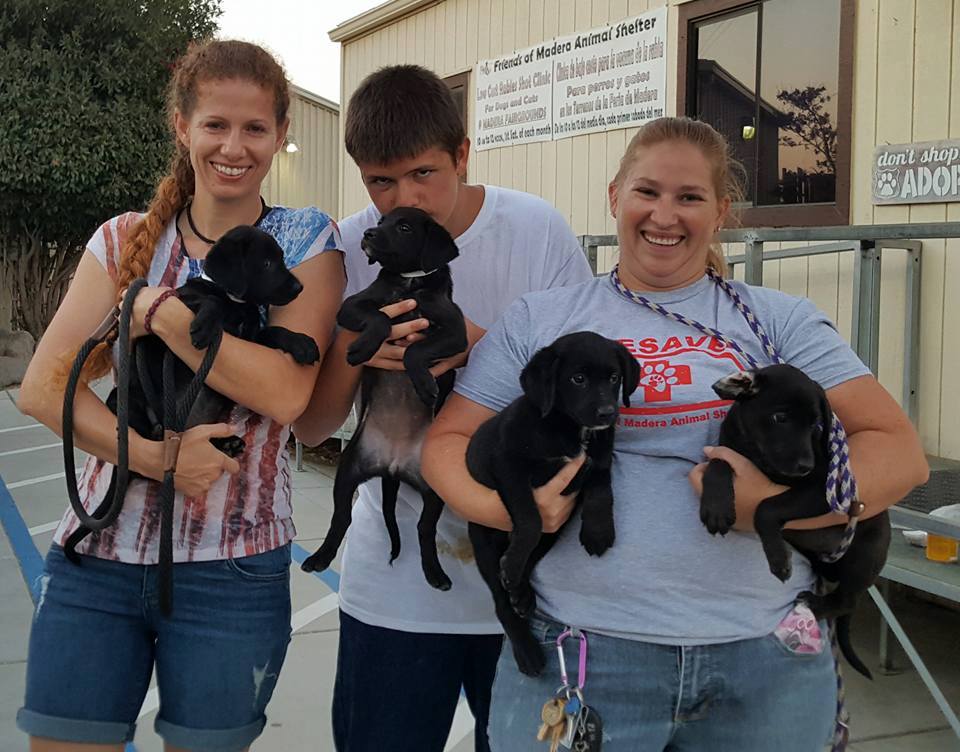 MADERA, CA – 1/1/2018 – Friends of Madera Animal Shelter (FMAS) today announced it received $40,000 from PetSmart Charities, the leading funder of animal welfare in North America, to help fuel its spay and neuter efforts in Madera County. With the help of this donation, the organization will offer free spay and neuter surgeries to pit bulls in Madera County.
FMAS offers low cost and free spay and neuter options, as well as community education that speaks to the pit bull overpopulation issue. The organization also offers adoption specials to encourage potential pet parents to adopt fixed pit bulls rather than purchase from a breeder, and works to send pit bulls to rescue organizations out of the area. "We are so thankful to have received this grant. We have worked for years to spay and neuter animals in our community with the vast majority being pit bulls," said Velvet Rhoads, FMAS president.  "We have been very successful in the past with our spay and neuter program and grants, by reducing intake numbers at our local shelter. It has taken years for the intake numbers to come down, but it is persistence and wonderful charities like PetSmart Charities that make it possible for us to continue. This grant will help us get closer to the goal of low shelter intake numbers and less homeless animals in our community."
PetSmart Charities aims to proactively prevent pet homelessness through increased spay and neuter efforts. With the help of animal welfare partners, such as Friends of Madera Animal Shelter, PetSmart Charities has helped facilitate over 1.7 million spay and neuter surgeries in the U.S. since 2009.
"FMAS is has built a strong partnership with the community, and continues to show its commitment through offering pit bull parents spay and neuter surgeries at no charge," said Jenny Aho, regional relationship manager at PetSmart Charities. "We look forward to seeing the positive impact of this initiative on the Madera County community."
For more information on the spay/neuter program, visitfmas.info, the FMAS Facebook page, or call (559) 363-5106.
###
About Friends of Madera Animal Shelter
Friends of Madera Animal Shelter is a non-profit 501 © (3) organization, run by dedicated volunteers working tirelessly to support the education of responsible pet ownership. Through donations we spay and neuter pets in our community, reducing the number of animals being euthanized. We are sworn to saving animals in crisis, working with our rescue partners, finding qualified and loving forever homes through our adoption programs.
About PetSmart Charities®
PetSmart Charities, Inc. is a nonprofit animal welfare organization with a mission to find lifelong, loving homes for all pets by supporting programs and thought leadership that bring people and pets together. In addition to finding homes for almost 500,000 shelter pets each year through its in-store adoption program in all PetSmart stores across the U.S. and Puerto Rico, PetSmart Charities provides funding to non-profits aligned with its mission through four key areas of grant support: Preventing Pet Homelessness; Helping Shelter Pets Thrive; Supporting the Bond Between People and Pets; and Emergency Relief and Disaster Support. Each year, millions of generous PetSmart shoppers help pets in need by donating to PetSmart Charities using the pin pads at checkout registers inside PetSmart stores. In turn, PetSmart Charities efficiently uses 90 cents of every dollar donated and has become the leading funder of animal welfare in North America, donating about $300 million to date. PetSmart Charities, a 501(c)(3) organization, has received the Four Star Rating from Charity Navigator, an independent organization that reports on the effectiveness, accountability and transparency of nonprofits, for the past 14 years in a row – placing it among the top one percent of charities rated by this organization. To learn more visit www.petsmartcharities.org.
Follow PetSmart Charities on Twitter: @PetSmartChariTs
Find PetSmart Charities on Facebook: Facebook.com/PetSmartCharities
See PetSmart Charities on YouTube: YouTube.com/PetSmartCharitiesInc
Media Contact:
Friends of Madera Animal Shelter                                                                   24-Hour PetSmart Charities
Velvet Rhoads, President                                                                                  Media Line: 623-587-2177
(559)363-5106
Fmas.info