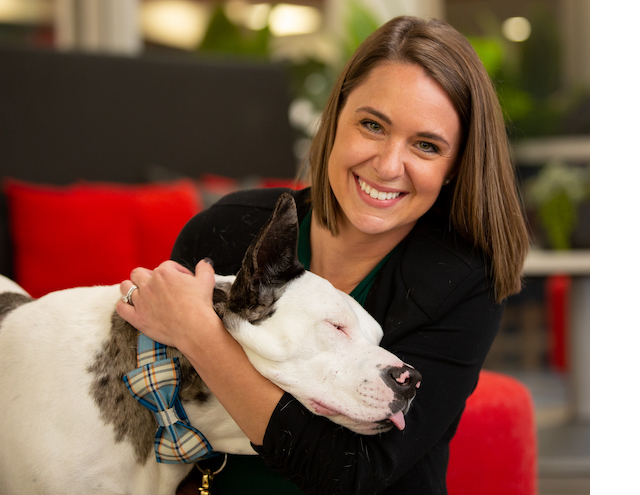 More than five million pets enter shelters and rescue organizations each year.  Those who stay longest are often pets with special needs, such as living with chronic illnesses, physical differences such as loss of sight or limbs or behavioral needs, often stemming from their upbringing (some pets prefer rural to urban environments, others do better as the only animal in the home).  To help pets of all varieties find loving homes, PetSmart Charities, the leading funder of animal welfare in the U.S., aims to create connections for animals in need of homes during its National Adoption Week March 6-12.
During PetSmart Charities National Adoption Week, potential pet parents will have the chance to interact with adoptable pets from animal welfare organizations at local PetSmart stores. Visitors will have the chance to spend time with animals including cats, kittens, dogs and puppies in safe and spacious areas. Staff and volunteers will be on hand to help potential adopters learn more about the pets they are interested in and ensure they feel confident in caring for them. 
For Heidi Marston, director of pet placement at PetSmart Charities, this mission feels especially personal. Marson adopted her dog Gatsby, a 6-year-old blind and deaf Great Dane mix, after touring a shelter for her role at PetSmart Charities. Marston originally took a video of sweet Gatsby to send to a friend who was looking to adopt. But after showing the video to her partner, Gatsby had an instant home with Marston and her family. 
Despite being blind and deaf, Gatsby enjoys life just like any other dog. He quickly learned the layout of Marston's home with some help from sensory items and innovative accommodations to help him navigate, and now enjoys running and playing in the yard. Gatsby has taught Marston much about trust and adaptability, and despite the challenges he's endured, Gatsby is the most kind, loving and social dog she's ever met. Marston hopes others will see the joy adopting a pet—special needs or otherwise—can bring to their homes and consider bringing home a new family member.
"National Adoption Week is an ideal opportunity to give a shelter pet what they need most—people to love," said Marston. "Many shelters across the country are full, and pets of all kinds are waiting longer today for their families. I've always been drawn to pets with special needs because they have so much to teach us much. These resilient pets have a different way of connecting with people and that bond is often like nothing you've ever experienced before."
Loving homes make significant impacts on pets and families alike. If you'd like to consider adopting a pet with special needs, Marston recommends the following tips before heading out to local National Adoption Week events:
Ask the adoption representatives about pets with special needs; see if you're that missing puzzle piece that helps them to thrive.
Be honest with yourself about what you can do and what your home has to offer. If you don't find the perfect fit on the first try, that's okay! Your local adoption groups will be thrilled to help you find the right pet.
Keep an open mind! Oftentimes, we skip over the pets that might need a little extra care, thinking it may be harder to care for them, but that's not always true. For example, if you primarily work away from your home, a puppy may be challenging to care for but a more senior pet who loves napping and requires little exercise could be perfect! If you know what you have to offer a pet and go in open, your perfect match will find you! 
Those who aren't quite ready to expand their family can still make a big impact by donating to help pets in need at petsmartcharities.org. They also can find their match when the time is right by visiting petsmartcharities.org/adopt-a-pet for adoptable pets, adoption centers and events. 

PetSmart Charities National Adoption Week Details: 
Thousands of animal welfare organizations will bring a host of adoptable shelter pets including dogs, cats, kittens and puppies into nearly every PetSmart store across North America. 
Dates: March 6-12, 2023
Locations: Nearly every one of PetSmart stores across the U.S. and Puerto Rico. Visit petsmart.com to find a store near you.
ABOUT PETSMART CHARITIES
PetSmart Charities is committed to making the world a better place for pets and all who love them. Through its in-store adoption program in all PetSmart® stores across the U.S. and Puerto Rico, PetSmart Charities has helped 10 million pets connect with loving homes. PetSmart Charities also provides grant funding to support organizations that advocate and care for the well-being of all pets and their families. PetSmart Charities' grants and efforts connect pets with loving homes through adoption, improve access to affordable veterinary care and support families in times of crisis with access to food, shelter and disaster relief. Each year, millions of generous supporters help pets in need by donating to PetSmart Charities directly at PetSmartCharities.org, while shopping at PetSmart.com, and by using the PIN pads at checkout registers inside PetSmart stores. In turn, PetSmart Charities efficiently uses more than 90 cents of every dollar donated to fulfill its role as the leading funder of animal welfare in North America, granting more than $500 million since its inception in 1994. Independent from PetSmart LLC, PetSmart Charities is a 501(c)(3) non-profit organization that has received the Four-Star Rating from Charity Navigator for the past 18 years in a row – placing it among the top one percent of rated charities. To learn more, visit www.PetSmartCharities.org. 
ABOUT PETSMART 
PetSmart LLC is the leading pet retailer offering products, services and solutions for the lifetime needs of pets. At PetSmart, we love pets and we believe pets make us better people. Every day with every connection, PetSmart's passionate associates help bring pet parents closer to their pets so together they can live more fulfilled lives. This vision impacts everything we do for our customers, the way we support our associates and how we give back to our communities. 
 
PetSmart operates approximately 1,660 pet stores in the United States, Canada and Puerto Rico, as well as more than 200 in-store PetSmart PetsHotel® dog and cat boarding facilities. We provide a broad range of competitively priced pet food and products, as well as services such as dog training, pet grooming, pet boarding, PetSmart Doggie Day Camp™ and pet adoption.
PetSmart, PetSmart Charities® and PetSmart Charities® of Canada work with nearly 4,000 animal welfare organizations to bring adoptable pets into stores so they have the best chance possible of finding a forever home. 
 
Through this in-store adoption program and other signature events, PetSmart has facilitated over 10 million adoptions, more than any other brick-and-mortar organization.
Media Contact:
Régine Labossière, Carmichael Lynch Relate
Regine.Labossiere@clynch.com, 646.265.8677
24-hour media at PetSmart and PetSmart Charities: MediaRelations@petsmart.com
Image caption: Heidi Marston, director of pet placement initiatives at PetSmart Charities, says Gatsby is deaf and blind, but his sharp senses of smell and touch help him navigate his new home with her.