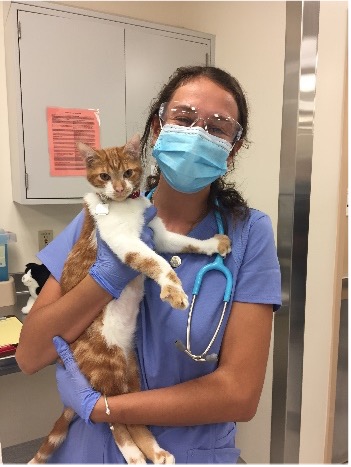 PetSmart Charities has awarded three deserving students its annual Steve Marton Veterinary Scholarships: Giulia Lanza-Billetta (University of California Davis), Kristen Margrave (University of Florida), and Emily Winn (Michigan University).
Named for a former long-time chairman of PetSmart Charities' Board of Directors and passionate animal welfare champion, this year's award provides up to $50,000 for one year's tuition to three current veterinary students. Current veterinary students planning to make significant efforts to reach the underserved are especially encouraged to apply each year.
"Many students pursuing this noble profession finish veterinary school with crushing debt," said Aimee Gilbreath, president of PetSmart Charities. "Awarding these scholarships encourages talented students to follow their heart's passion. If we can help current students reduce the debt they incur, they're in a better position to devote a portion of their time and talent to delivering accessible care to communities particularly at risk."
High student debt can make a career in veterinary medicine seem out of reach for many students. In the U.S., 50 million pets already lack access to basic veterinary care, and under-resourced communities are particularly at risk. Awarding these scholarships is one step PetSmart Charities takes to contribute to solutions within the ecosystem.
Current 2nd or 3rd year veterinary students attending a college of veterinary medicine in the U.S. and who are in good standing may apply. Steve Marton Scholarship applications will re-open in February 2023. For more information or to apply visit petsmartcharities.org/pro/grants/steve-marton-scholarship.
About PetSmart Charities
PetSmart Charities is committed to making the world a better place for pets and all who love them. Through its in-store adoption program in all PetSmart® stores across the U.S. and Puerto Rico, PetSmart Charities helps nearly 600,000 pets connect with loving families each year. PetSmart Charities also provides grant funding to support organizations that advocate and care for the well-being of all pets and their families. Our grants and efforts connect pets with loving homes through adoption, improve access to affordable veterinary care and support families in times of crisis with access to food, shelter and disaster response. Each year, millions of generous supporters help pets in need by donating to PetSmart Charities directly at PetSmartCharities.org, while shopping at PetSmart.com, and by using the PIN pads at checkout registers inside PetSmart stores. In turn, PetSmart Charities efficiently uses more than 90 cents of every dollar donated to fulfill its role as the leading funder of animal welfare in North America, granting more than $500 million since its inception in 1994. Independent from PetSmart Inc., PetSmart Charities is a 501 (c) (3) organization that has received the Four-Star Rating from Charity Navigator for the past 17 years in a row – placing it among the top one percent of rated charities. To learn more visit www.petsmartcharities.org.
Follow PetSmart Charities on Twitter: www.twitter.com/PetSmartChariTs
Find PetSmart Charities on Facebook: www.Facebook.com/PetSmartCharities
Follow PetSmart Charities on Instagram: www.instagram.com/PetSmartCharities
See PetSmart Charities on YouTube: www.YouTube.com/PetSmartCharitiesInc
Media Contact:
Regine Labossiere, Carmichael Lynch Relate
Regine.labossiere@clynch.com 646.265.8677
24-hour media at PetSmart and PetSmart Charities: Mediarelations@petsmart.com