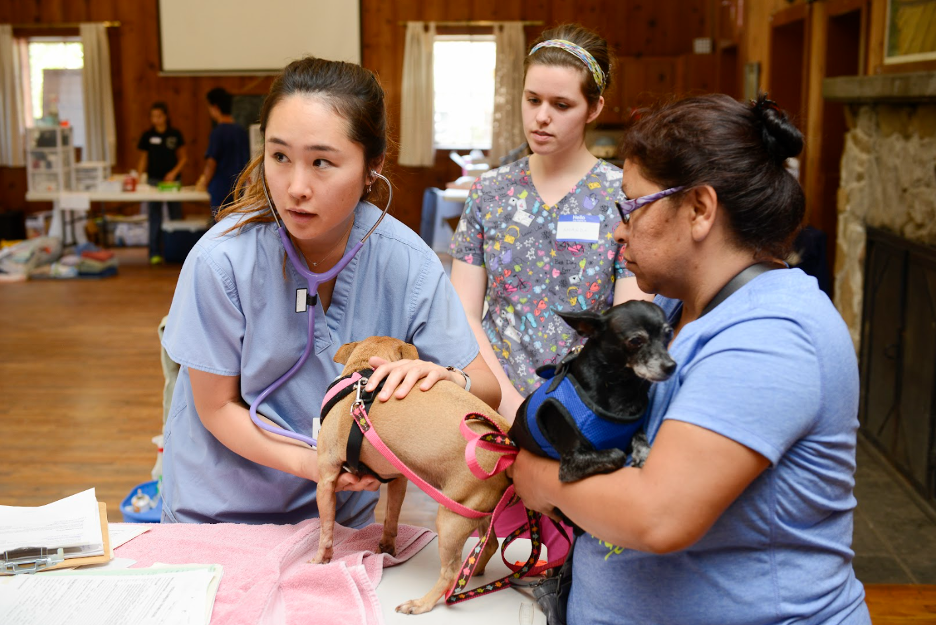 PetSmart Charities® will name an endowed chair at the University of California, Davis, School of Veterinary Medicine for $6 million. The landmark partnership marks the largest gift to date made by the top funder of animal welfare in the U.S. to bolster the commitment to improving access to veterinary care.
The prestige associated with endowed faculty chairs attracts accomplished academics to the role. Establishing the PetSmart Charities Endowed Chair in Accessible Veterinary Care will leverage UC Davis' breadth of research strengths to continue to build innovative, compassionate care for all pets, ensure hands-on clinical training for veterinary students, and develop research models that can scale nationwide. Programs at UC Davis also reach historically excluded rural and urban communities. UC Davis has delivered innovative, low-cost veterinary care models for years, including Knights Landing One Health Center Veterinary Clinic's service to residents in a rural community near Davis, California, among others.
According to research commissioned by PetSmart Charities, in the U.S., 50 million pets a year lack access to standard veterinary care. Demand for pet health care has never been higher, but a shortage in practitioners along with rising costs of veterinary care have created a crisis. In recent reports, the country will experience an estimated shortage of 15,000 companion animal veterinarians by 2030. Nearly 30% of pet parents report a veterinary bill of $499 would land them in debt. 
In 2023, PetSmart Charities committed $100 million over the next five years to address geographic, language and financial barriers to veterinary care. The funding designated to support innovative programs across the nation's veterinary colleges signals the nonprofit's capstone priority in this portfolio.
"It's one of the most pressing issues of our time – building more equitable access to veterinary care," said Aimee Gilbreath, president of PetSmart Charities. "Supporting an endowed faculty chair at this world-class veterinary school is certain to help us gain access to insight and expertise on effectively investing in this critical societal need. The chair will also lend thought leadership and representation in partnership with PetSmart Charities across the animal welfare space, and at other intersections serving pets and people. We couldn't be more excited about this promising partnership!"
UC Davis' School of Veterinary Medicine was chosen to receive the gift for its sustained priority of improving access to veterinary care and integrated approach to student training. Their continued reign as the top veterinary school in the nation, experience serving communities in need, and commitment to attracting a more diverse population of students to the field also made for an ideal match in supporting PetSmart Charities' initiatives. The university is in the process of filling the chair through a national hiring process; a position description and call for applications is expected within weeks. Those who wish to be notified when the position posts can fill out this form.
"I'm thrilled to join forces with PetSmart Charities to make a greater impact in an issue that affects many animals and their owners," said Dr. Mark Stetter, dean of the UC Davis School of Veterinary Medicine. "Together, I believe that we can advance new models that can expand veterinary care to those who need it most."
The gift supports UC Davis' $2 billion fundraising campaign, Expect Greater: From UC Davis, For the World, the largest philanthropic endeavor in the university's history. Together, donors and UC Davis are advancing work to prepare future leaders, sustain healthier communities and bring innovative solutions to today's most urgent challenges.
University partnerships
Along with the gift to establish the endowed chair at UC Davis, PetSmart Charities supports the following stand-out veterinary university programs to bolster students' capacity to deliver community-based veterinary medicine: 
Colorado State University (CSU) is building training programs to achieve a more efficient, effective veterinary workforce designed to operate within state-based veterinary regulations. This work is intended to help veterinarians serve critical public needs and expand access to veterinary care.
PetSmart Charities also supports CSU's development and delivery of a "Spanish for Veterinarians" curriculum, which aims to ensure interested veterinary students develop skills to communicate about animal health and care while building long-lasting rapport with Spanish speaking care takers.
In collaboration with CSU and the University of Alaska Fairbanks (UAF) veterinary training program, PetSmart Charities supports a program that engages future vets in situations in which they can learn to deliver quality care in under-resourced communities in the YK Delta of Alaska, while bringing preventive medicine veterinary health care to people and their pets.
The Ohio State University College of Veterinary Medicine has engaged in critical research to uncover recent trends related to access to care that have helped PetSmart Charities inform and inspire animal welfare leaders.
Support for University of Minnesota helps the investigation of ideal tactics to prepare students for community medicine, including making necessary adjustments within the veterinary education system to meet the needs of all pets and their owners.
PetSmart Charities also awards three $50,000 scholarships annually to current veterinary students, and will continue to support other university scholarships.
To learn more, visit: petsmartcharities.org/our-stories/community-impact/keeping-families-together
About PetSmart Charities®
PetSmart Charities is committed to making the world a better place for pets and all who love them. Through its in-store adoption program in all PetSmart® stores across the U.S. and Puerto Rico, PetSmart Charities helps up to 400,000 pets connect with loving families each year. PetSmart Charities also provides grant funding to support organizations that advocate and care for the well-being of all pets and their families. PetSmart Charities grants and efforts connect pets with loving homes through adoption, improve access to affordable veterinary care and support families in times of crises with access to food, shelter and disaster response. Each year, millions of generous supporters help pets in need by donating to PetSmart Charities directly at PetSmartCharities.org, while shopping at PetSmart.com, and by using the PIN pads at checkout registers inside PetSmart® stores. In turn, PetSmart Charities efficiently uses more than 90 cents of every dollar donated to fulfill its role as the leading funder of animal welfare in North America, granting more than $500 million since its inception in 1994. Independent from PetSmart LLC, PetSmart Charities is a 501(c)(3) organization that has received the Four-Star Rating from Charity Navigator for the past 18 years in a row – placing it among the top one percent of rated charities. To learn more visit www.petsmartcharities.org.
Media Contact:
Régine Labossière, Carmichael Lynch Relate
Regine.Labossiere@clynch.com, 646.265.8677
About UC Davis School of Veterinary Medicine
The top-ranked UC Davis School of Veterinary Medicine has more than 700 students pursuing the Doctor of Veterinary Medicine and other professional and graduate degrees, and offers the nation's largest veterinarian residency program with more than 35 specialties. More than $89 million in annual research funding is applied to benefit animal, human and planetary health. The school's hospital treats more than 50,000 patients each year. This school is currently celebrating its 75th year of exceptional care and innovation.