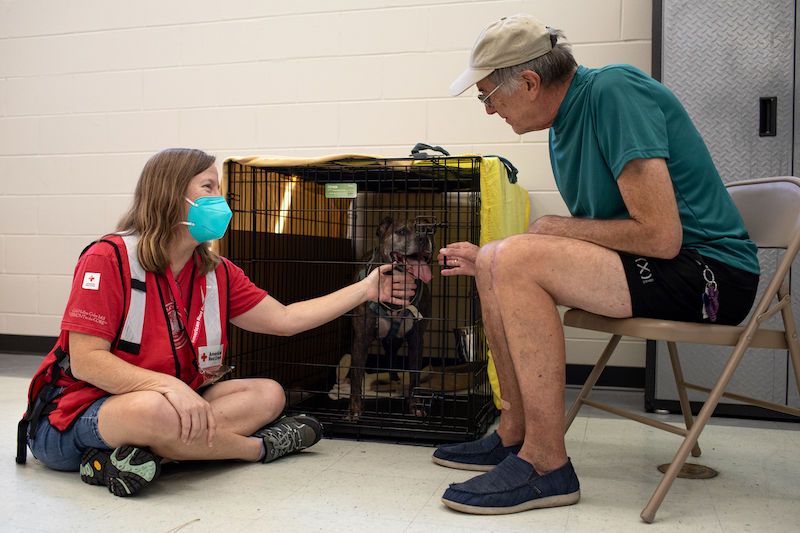 A new survey[1] reveals that the majority of pet parents in the U.S. are prepared to evacuate their homes with their pets in case of an immediate disaster – but they wouldn't leave home if they couldn't take their pets to safety with them, and would even give up their spot in a shelter if they couldn't stay there with their pets. The survey conducted by nonprofit PetSmart Charities, the leading funder of animal welfare in the country, is timely as June is National Pet Preparedness Month and the start of hurricane and wildfire seasons across the country. National Pet Preparedness Month is a reminder for all pet parents to develop an emergency plan for the whole family, including pets. For how to prepare to evacuate to safety with pets and to download a pet preparedness checklist, visit PetSmart Charities here.
According to the survey of pet parents:
If there was an evacuation order but they couldn't bring their pets with them, 76% of respondents said they would stay at home with their pet.

If they evacuate but their pets can't stay with them at the shelter, 80% said they would give up their spot in the shelter.

Strong emotional bonds are keeping pets and their owners together, as 86% of respondents said the emotional support of their pet would be essential to them making it through a disaster.

More than half (63%) had doubts whether nearby pet-friendly shelters were available to them in case of emergency.
Additional results from the survey reveal that for pet parents, knowing what to do in order to evacuate with their pets and where they can go to stay together are top of mind. Those steps include the following:
Keep a "go bag"

–

Keep a pet carrier, harness or leash ready to go at a moment's notice and have a recent photo of pets on hand

Update information

–

Make sure pets are wearing a collar or tags and that microchip information is up to date

Take care

–

Ensure pets are up to date on all vaccinations and carry a list of medications the pet needs and their veterinarian's contact information

Know where to go

–

Make a list of pet-friendly sheltering options nearby
Keeping pets and their people together is so important to PetSmart Charities that the nonprofit launched a groundbreaking partnership with the American Red Cross last year that will support efforts in treating pets as essential family members during times of disaster. The partnership, a first of its kind between two foundational nonprofits, ensures that pets are included in disaster planning, response and recovery in order to keep pets and people together during times of crises. PetSmart Charities' investment in the Red Cross includes the integration of pet tracking into RC Care, the Red Cross client management system, allowing their staff and volunteers to provide services to all family members virtually or with "boots on the ground'' in disaster situations, and the creation of pet-centric training and sheltering models with the Red Cross and its partners for its disaster response staff and volunteers.
In October of 2022, Melisa Pratt, senior community grants manager at PetSmart Charities, visited a community coping with the aftermath of flooding in Fort Myers, Florida, with a Red Cross team in the weeks following Hurricane Ian. Many families impacted lived on fixed incomes and lacked flood insurance.
"I saw firsthand the impact our partnership with American Red Cross was already making," Pratt shared. "During a visit to a co-lodging shelter, it was moving to see cats and dogs being cared for right next to their families. Being together helps give both the comfort and consistency they need to navigate recovery. I also saw an opportunity for growth within our partnership, to support the delivery of pet food alongside human food for those who are sheltering together in place. Getting prepared ahead of an unforeseen emergency and knowing you can go to a safe place with all members of your family is critical."
"The American Red Cross responds to more than 60,000 disasters across the country every year, and time and time again we've seen how emotionally connected people are to their pets and how important it is that they prepare in advance of disasters," said Jennifer Pipa, vice president of Disaster Programs for the American Red Cross. "As our partnership with PetSmart Charities grows, we're looking to help people develop a plan for their entire family — including their pets — to ensure they can stay connected throughout disaster response and relief efforts. Through our work together, our goal is to best serve all family members during times of crisis."
For more information on PetSmart Charities and helping pet parents in times of disaster, please visit petsmartcharities.org.
About PetSmart Charities®
PetSmart Charities is committed to making the world a better place for pets and all who love them. Through its in-store adoption program in all PetSmart® stores across the U.S. and Puerto Rico, PetSmart Charities helps up to 600,000 pets connect with loving families each year. PetSmart Charities also provides grant funding to support organizations that advocate and care for the well-being of all pets and their families. PetSmart Charities grants and efforts connect pets with loving homes through adoption, improve access to affordable veterinary care and support families in times of crises with access to food, shelter and disaster response. Each year, millions of generous supporters help pets in need by donating to PetSmart Charities directly at PetSmartCharities.org, while shopping at PetSmart.com, and by using the PIN pads at checkout registers inside PetSmart® stores. In turn, PetSmart Charities efficiently uses more than 90 cents of every dollar donated to fulfill its role as the leading funder of animal welfare in North America, granting more than $500 million since its inception in 1994. Independent from PetSmart LLC, PetSmart Charities is a 501(c)(3) organization that has received the Four-Star Rating from Charity Navigator for the past 18 years in a row – placing it among the top one percent of rated charities. To learn more visit www.petsmartcharities.org.
About the American Red Cross
The American Red Cross shelters, feeds and provides comfort to victims of disasters; supplies about 40% of the nation's blood; teaches skills that save lives; distributes international humanitarian aid; and supports veterans, military members and their families. The Red Cross is a nonprofit organization that depends on volunteers and the generosity of the American public to deliver its mission. For more information, please visit redcross.org or cruzrojaamericana.org, or visit us on Twitter at @RedCross.
Media Contacts:
Carmichael Lynch Relate for PetSmart Charities
[1] The PetSmart Charities Pet Preparedness Survey was conducted by Wakefield Research among 1,000 nationally representative U.S. pet owners ages 18 and over, between May 19-25, 2023, using an email invitation and an online survey. This data has been weighted to ensure accurate representation of U.S. pet owners ages 18 and over.