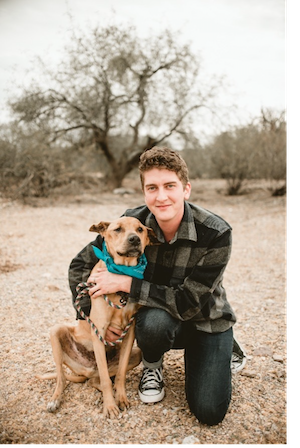 "We adapt where change is needed, and this one is urgently needed to save pets' lives."  
That was Aimee Gilbreath, president of PetSmart Charities, sharing her perspective about a bold decision she and the team made recently. Beginning in July 2023 — just ahead of PetSmart Charities National Adoption Week — through December 2023, PetSmart Charities will allow sterilization (spay and neuter surgeries) to occur after adoptions for puppies and kittens under six months of age.

Since 1994, PetSmart Charities has required all animals to be spayed or neutered before participating in adoption events and/or staying in adoption centers. But the times call for change. After 29 years, PetSmart Charities is revising that policy, and we're confident it will change — and save — lives.

It wasn't a decision we took lightly. 

A dire situation requires change 
Animal shelters consistently report being full to overflowing, and that their staff members are burning out. We are facing a crisis, and leaders must show the courage to innovate. Today, national data reveals that an overwhelming lack of access to veterinarians across shelters and animal welfare organizations is causing the backlog of spay and neuter surgeries and in turn, fewer adoptions.

Why is it happening?

First, there is a shortage of veterinary practitioners across the U.S. and Canada. Recent studies indicate that by 2030, the U.S. will be short 15,000 veterinarians. For many reasons, the profession is struggling to keep pace with demand now that 70% of homes in America include pets. Animal shelters and rescues are impacted with DVM and veterinary staff vacancies.

Even though today fewer animals are entering animal shelters than before 2019, adoption numbers are also decreasing, and animals are staying in shelter longer. Tragically, after making so much progress, euthanasia rates have climbed higher than they have been in four years, with a recent report from PetPoint data detailing an increase of 14% of dogs losing their lives in shelters in the first quarter of 2023[1].
 
We listened to our shelter and rescue partners and colleagues who are desperately trying to find loving homes for pets. The forward-thinking decision to remove this barrier to adoption and send pets home faster reduces the risk of contagious disease, behavioral issues and stress due to confinement and the lack of connection to pets and people[2][3][4]. Reducing the length of stays for kittens and puppies allows shelter and rescue partners to save more lives by increasing the visibility of their animals through offsite adoption events. And, as a bonus, every animal that goes to a new home means space is freed up to help another one. Decreasing average stays at shelters/rescues increases the capacity to save more lives. And we can't forget the benefit to the devoted community of workers in animal welfare. The outcomes are not only positive for pets in need, but the people who care for them, too. 

While this downstream impact was beginning to brew even before the pandemic, when COVID-19 truly hit, animal shelters were forced to stretch, ditch, and recreate standard policies and procedures[5]. While animals continued to enter shelters, spay and neuter surgeries were considered non-essential. To continue to save lives by placing animals with adopters and fosters or reuniting them with their people and habitats, spay and neuter surgeries were deferred[6].  More trust was placed in pet parents to ensure their new best friends were spayed and neutered.  

Even before the pandemic, shelters and rescues were taking one of three approaches to spay and neuter surgeries: 
Pets were allowed to go home through foster-to-adopt and pre-adopt programs before spay and neuter surgeries. 
Through updated spay and neuter policies organizations deferred the procedures even when shelters reopened. 
Spay and neuter pre-adoption requirements were either never lifted or were put back in place post-COVID. In some cases, animals may wait weeks or months before surgery or before becoming available for adoption.
Without making pivots that respond to our access to care crisis, animals will be held in shelters/rescues longer, awaiting sterilization, contributing to stress, behavioral issues, and disease.

"Many agencies are waiving the requirement that an animal be spayed or neutered at the time of adoption, and instead implementing post-adoption surgeries, in an effort to alleviate crowding in shelters and get animals through the system faster, and healthier," Dr. Levy wrote in a recent blog post on the topic of this change at PetSmart Charities. We still want animals to be spayed and neutered, but we realize there is not always capacity to do so before the time of adoption without increasing the length of stays for pets in shelters. And though animals under six months of age will be allowed in stores for adoption without spay and neuter, organizations must still follow all applicable state and local laws regarding spay and neuter. 
In 2021, when PetSmart stores re-opened and in-store adoptions resumed, our previous policies requiring pre-adoption spay and neuter procedures remained in place. These restrictions limited the number of rescues and shelters that can work with PetSmart Charities' in-store adoption program.  On top of the financial burdens associated with identifying veterinarians to conduct required spay/neuter surgeries, our partners who relied on in-store adoptions pre-COVID struggled to find enough staff to even operate their shelters. The requirements to come to the store, along with operational challenges soon made offsite adoptions feel out of reach.

Recognizing these realities, we needed to reconsider our own policies to ensure full support for our partners. While we will always support and champion the benefits of sterilization, without changes and creative solutions, animals will remain in shelters or rescues even longer and utilizing scarce resources. We decided to place trust our partners and in their potential adopters, too.  
 
Your response
So far, our decision has been met with enthusiasm. 

"I agree with the option to defer spay and neuter when spay/neuter capacity can't keep up," Julie Levy, DVM, Professor of Shelter Medicine at the University of Florida, said when asked about her support for the Spay and Neuter Initiative. "We simply must get animals flowing through the system faster in this unprecedented time of shelter overcrowding crisis. In some organizations, a lack of urgency to open space for more intakes is causing harm to some unseen animal still stuck in the community-wide sheltering system." Dr. Levy speaks to the urgency, which is key in our current sheltering state. For many, the decision may seem a bit radical considering that, many in our field believe that spay and neuter procedures increase lifesaving success. In late 2022, the Association of Shelter Veterinarians (ASV) published an updated version of their Guidelines for Care in Animal Shelters. These guidelines, written by leading veterinary experts from across the field, are regarded as the most comprehensive standard guidelines for animal shelter veterinary care in the United States and Canada. 

The updated ASV guidelines encourage post-adoption sterilization, saying, "If a shelter cannot sterilize all animals before adoption without increasing length of stay, an acceptable alternative is to arrange post-adoption spay-neuter. Shelters performing post-adoption sterilization must have a system for keeping track of unaltered animals and ensuring that surgery is completed in a timely manner." Even animals waiting for 24 hours longer than necessary for spay/neuter before going home may contribute to a nationwide increase in length of stay and shelter euthanasia.  

With close to 500,000 adoptions annually at PetSmart stores across the United States and Canada, we believe our donors, partners and stores will embrace this step as part of the solution to increasing adoptions. Starting with puppies and kittens, we hope that with proven success, we can extend surgery deferment to all animals in the coming years.  

Post-adoption spay/neuter programs are being implemented in a variety of ways, including: 
Foster-to-Adopt programs that allow pets to be fostered until adoption
Scheduling spay/neuter appointments in the future with pet parents bringing animals into shelter clinics for surgeries
Spay/neuter vouchers that allows pet parent to schedule surgery on their own, as part of the adoption requirements 
Adoption contracts requiring pet parents to provide proof of sterilization within a designated timeframe 
Later this month we will publish a toolkit, providing example policies from lifesaving municipal, private, and government-contracted animal shelters and rescues, including Austin Pets Alive, LifeLine Animal Project, Dallas Animal Services, and Lucky Dog Animal Rescue, among others. We hope these examples will support the programmatic updates we hope to inspire. 

Call to action 
By lifting this requirement, we're confident others in the animal welfare space will push past how things have historically operated. A post-pandemic world calls for change and innovation. We have an opportunity to continue to be more connected, to support one another, and to seek out these solutions together. This change is also a call to action.  It's a stellar opportunity to work together and to build bridges between PetSmart Charities and our non-profit shelter and rescue partners and municipal shelters. 

Ultimately, we know this move will save the lives of shelter pets who have so much love to give. It also promises to support the people who give so much of themselves to their wellbeing, often at the expense of their own. Let's not stop at spay and neuter restrictions. We hope to continue to challenge ourselves as funders to look at our restrictive policies and continue to make bold choices to invite more people in to help animals. We hope you will join us in doing the same — as funders, rescuers, and shelters — united in the goal of connecting pets and people.  

We hope you'll reach out and share your thoughts with us; as always, we're here to help.
Rory Adams is the newly appointed Sr. Manager of Adoption Initiatives at PetSmart Charities. Connect with him on LinkedIn.  
References:
[1] Died in care and shelter euthanasia from PetPoint data Q1 2023

[2] 

Gunter, Lisa. Understanding the impacts of breed identity, post-adoption and fostering interventions, & behavioral welfare of shelter dogs. Arizona State University, 2018.

 
[3] 

Alexandra Protopopova, Effects of sheltering on physiology, immune function, behavior, and the welfare of dogs, Physiology & Behavior, Volume 159, 2016, Pages 95-103, ISSN 0031-9384,

  

https://doi.org/10.1016/j.physbeh.2016.03.020.

[4] 

Dinnage, J.D., J.M. Scarlett, and J.R. Richards, Descriptive epidemiology of feline upper respiratory tract disease in an animal shelter. J Feline Med Surg, 2009. 11(10): p. 816-25.

 
[5] https://americanpetsalive.org/news/animal-shelters-nationwide-come-together-to-create-covid-19-guide
[6] https://www.nacanet.org/wp-content/uploads/2020/03/3.Releasing-Unaltered-Pets-from-Animal-Shelters-During-the-COVID-19-Pandemic.pdf

Balancing Needs of Shelter Animals, Community in Times of Crisis | Network Partners (bestfriends.org)

  

https://sheltermedicine.vetmed.ufl.edu/2022/09/13/impact-on-spay-neuter-surgeries-due-to-covid-19-pandemic-threatens-pet-overpopulation/