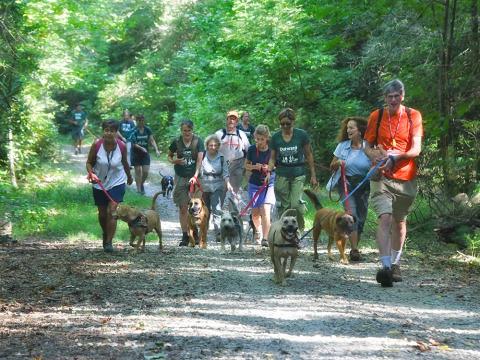 The Brother Wolf Animal Rescue adoption center is located in the heart of the gorgeous eastern  mountains – Asheville, North Carolina – where folks love the outdoors as much as they love dogs.
 Filled with endless peaks and valleys to meander, navigating the Blue Ridge Mountains is best  enjoyed with a buddy. Brother Wolf Animal Rescue offers just that with the Outward Hounds Hiking  Club. Members of the 6-year-old program are volunteers that meet three times a week to take dogs  out of the shelter and onto the trails for hikes that are up to five miles long.
 "We live in a very active community who loves the outdoors, so the program was a perfect fit," says  Brother Wolf marketing director Jackie Teeple.
 The hikes are wonderful for dogs – getting them much-needed exercise and the chance to become  better socialized. It also exposes them to more people, which expands the pool of potential adopters.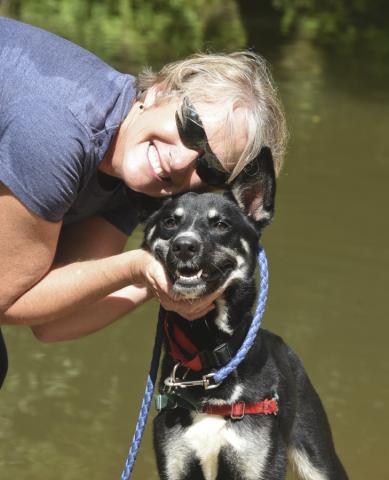 More shelters and animal rescue groups around the country are developing similar programs.
Some organizations such as Humane Society Silicon Valley Doggy Day Out program or the Texas- based SPCA of 
BrazoriaCounty's Longtimer's Lunch Club allow members of the public to pick up a shelter dog for a couple of hours and take them for a hike or another adventure.
Others are organized group hikes, like those put on by Brother Wolf. NoVa Pets Alive, a Northern Virginia nonprofit aimed at helping shelters save more lives, puts on regular hikes called ResQ Walks.
NoVa Pets Alive founder Kelly Duer says these jaunts into nature have not only become a wonderful way to help individual shelter pets, but since so many of the dogs are of the blocky-headed variety, they have the added boon of helping fight breed stigmatization."There's not much that can combat breed bias as effectively as a large group of mixed-breed dogs walking in harmony," Duer says.
It goes without saying: The people on these shelter dog hikes get a lot out of the experience, too.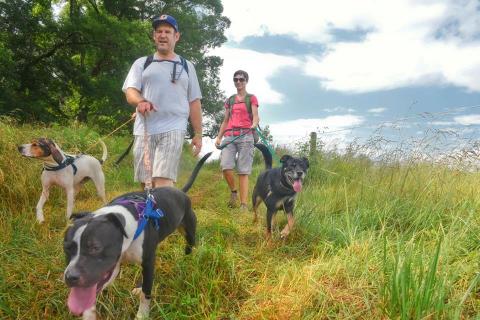 Jean Raives Boyd and her husband began hiking with Brother Wolf about a year ago. She's been diagnosed with coronary artery disease, her husband was having back problems, and "we were both a little overweight," Boyd says.
The couple tried to counter their health issues with a plant-based whole food diet -- similar, she says, to a vegan diet -- and by going out with Outward Hounds three times per week.
As a result, Boyd says she's taking fewer meds, her blood pressure is coming down, her husband's back is feeling better, and she and her husband have both lost weight.
"I feel great," Boyd says. "I'm getting so much out of this, too."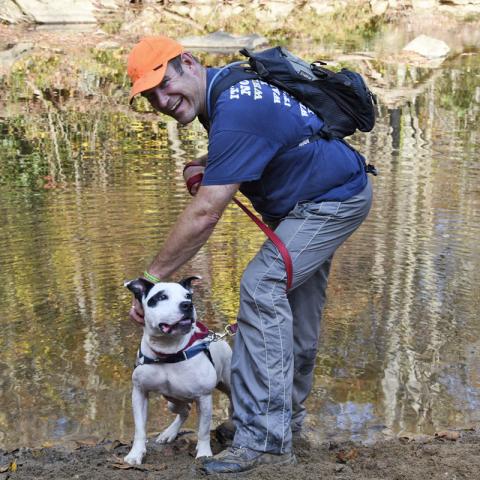 Rich Nallenweg has been hiking twice a week with Brother Wolf for the last few years, leading the hikes about a third of the time.
"I hardly ever miss any hikes because I love it," he says.
There's a core group of hikers, who get some exercise and socialization for themselves. Some hikers have also adopted their canine hiking buddies.
"It's an absolutely amazing experience for the dogs," agrees Teeple. "The hikes allow them to relax, enjoy natural doggie behaviors, and show us their true personalities. Especially more sensitive dogs, this is a fantastic opportunity for them to be who they truly are."
More stories about the human-animal bond:
A Cat on a Mission to End Domestic Violence
Photo Credit: Lucy Cobos Photography