Purrfect Pals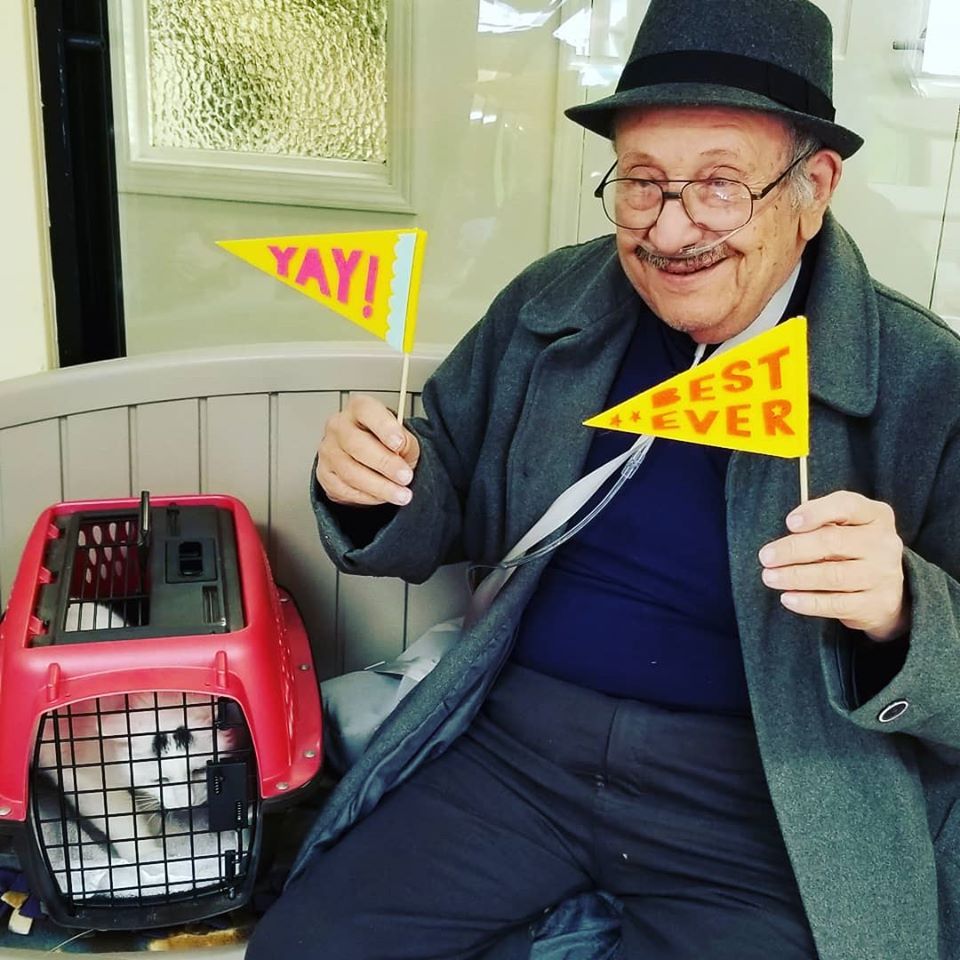 Lil Chica is a beautiful, itty-bitty, white and gray 11-year-old girl with stunning gold eyes. Originally born to a feral mom and fostered as a kitten, she turned into a friendly, sweet kitty who appreciates a cozy bed, regular meals, and all the benefits of living with people. Adopted through Purrfect Pals, she has returned to look for a new, forever home because her human mom died in September. As if losing her mom and home wasn't bad enough, Lil Chica's best feline friend, Lil Chico, died. This poor lady has lost everything! Until this weekend, we would have told you that Lil Chica is a cat who should never, ever buy lottery tickets. She had been adopted and returned to Purrfect Pals four times over eleven years due to various changes in her households. It's looking like Lil Chica's luck might be improving, though, and really think Adoption #5 is " The One!" David was looking for a vintage kitty to share his retirement years with and Lil Chica was instantly smitten when she met him. We couldn't agree more!
Jacksonville Humane Society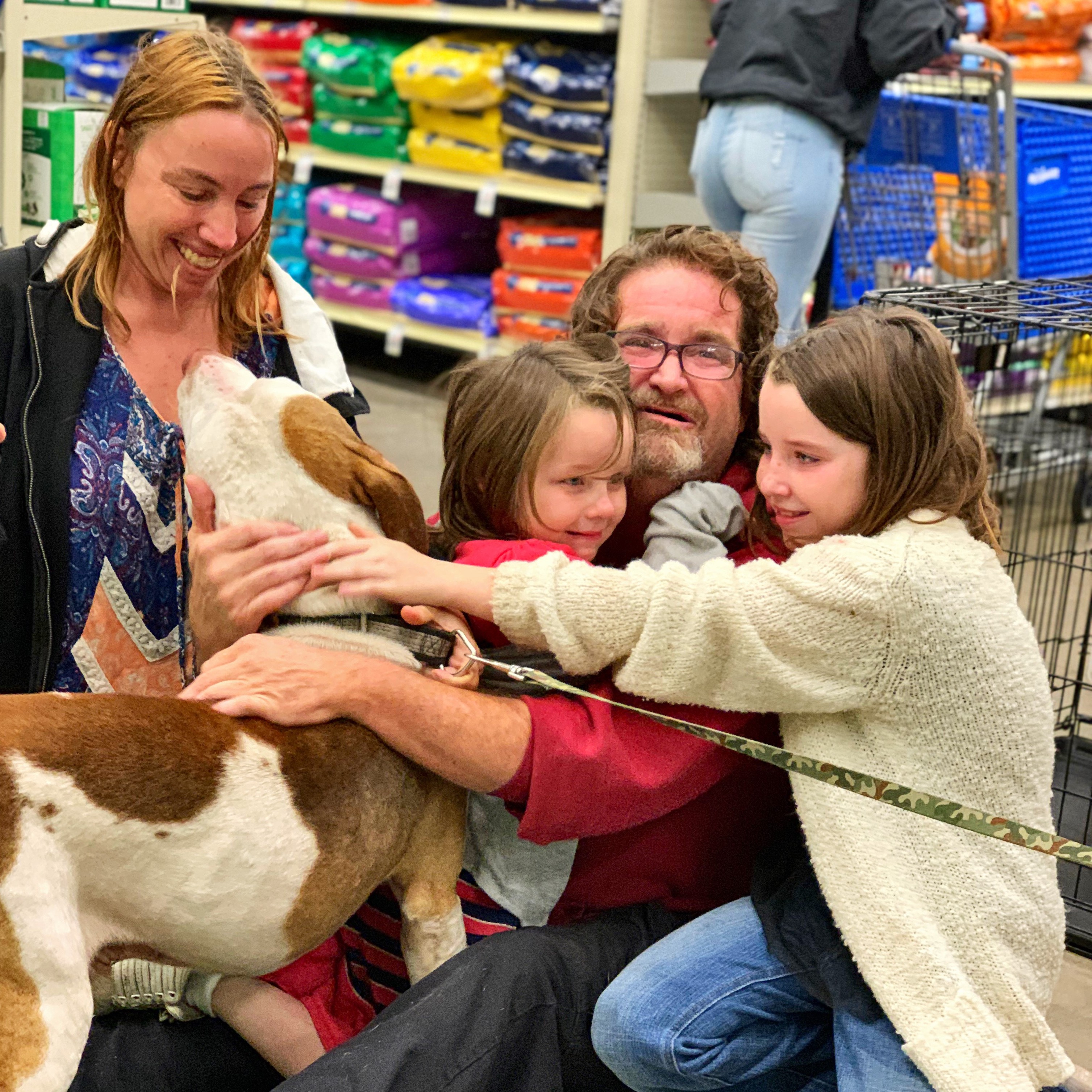 When the DeAngelis family arrived at PetSmart for an adoption event, they had one thing on their mind a new kitten! They were greatly missing their dog, Dopey, who went missing a few months prior and was never found. The family wanted another pet but opted for a kitten because they were not ready to replace their missing pup. While waiting in line to sign the adoption paperwork, Mr. DeAngelis spotted a familiar brown and white dog walking with a volunteer. Could it be? It was! my Dopey! he shouted. Dopey heard his dad's voice and ran towards the family. It was a very happy reunion. The family still adopted the kitten and shared with us that she and Dopey are now best friends, thanks to the support of PetSmart Charities!
Bowling Green Warren County Humane Society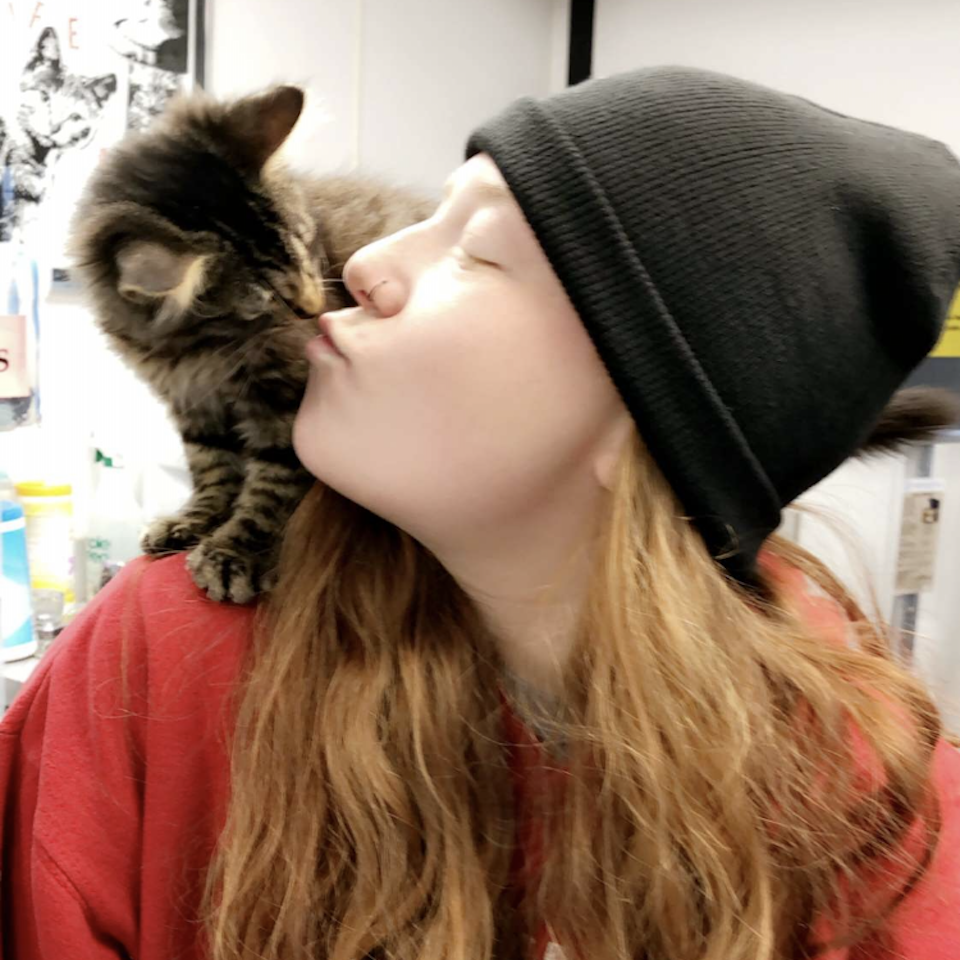 I had recently started at the BGWCHS before meeting sweet Eli. He was a kitten who was already adopted before I met him. Every morning when I saw him he climbed straight up on my shoulder and proceeded to hangout while I cleaned or just worked around the shelter. He made me fall In love and while doing so, reminded me why animal rescue is so important. 
Interfaith Ministries for Greater Houston Animeals on Wheels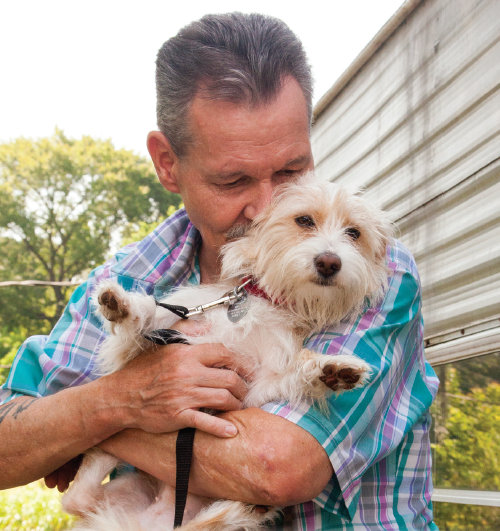 Terrier Mary Lou is a beloved companion to Mr. Richard Wright, a man who knows tragedy all too well. Working as a heavy equipment mechanic at Fort Bragg in the 1970s, Richard Wright developed a double hernia in his stomach, which required immediate surgery and a colostomy bag. Today, he struggles with a permanent disability and receives weekday Meals on Wheels.

Tragedy struck again in 2017 when Hurricane Harvey flooded his home in an Humble (north of Houston) trailer park and he was forced to live in a nearby elementary school until the water subsided. At the school, his beloved Dachshund Rocky contracted the parvo virus and died.

With his home in tatters and his best friend gone, Mr. Wright has worked hard to rebuild his life in a FEMA trailer. It was then that he adopted Mary Lou and enrolled her in Animeals, which delivers dry dog food, treats and toys once a month. Thanks to Animeals partnership with Emancipet, Mr. Wright had Mary Lou spayed at no charge. Through a partnership with the Texas Veterinary Medical Foundation, Mary Lou receives vaccines as well. "I am blessed" he says about receiving Meals on Wheels and Animeals, "I'm lucky to be alive."  Like so many other program participants, Mary Lou improves Mr. Wright's quality of life, and he is able to keep her in part because of Animeals.
SPCA Serving Erie County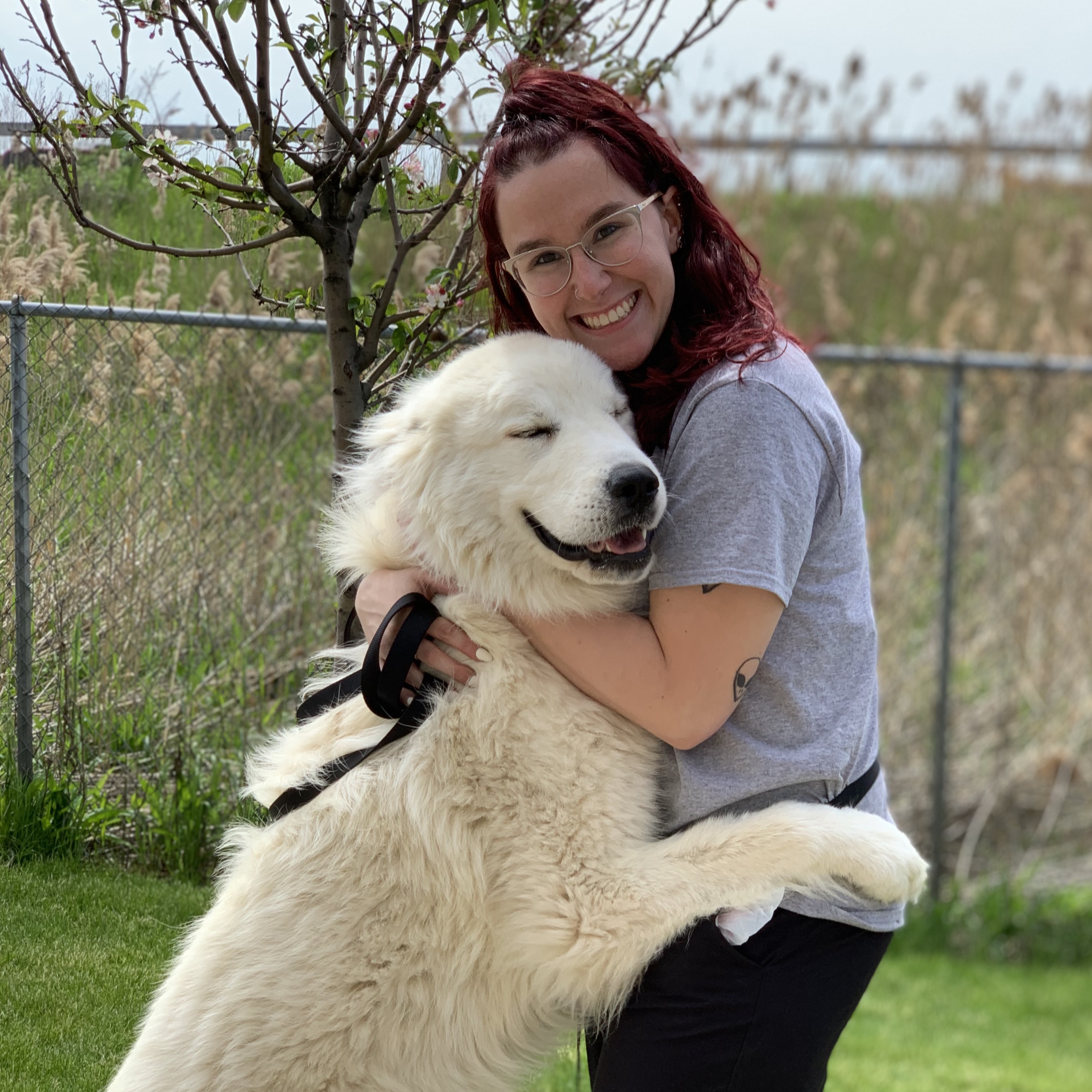 I am the Communications Manager at the SPCA Serving Erie County and was outside doing an adoptable animal video in May 2019. I noticed our volunteer Lyndsay was walking a stunning dog, so I asked her if I could take a picture of her. (I'm always on the hunt for great photos of our staff and volunteers with animals!) As if on cue, Roslynn the dog jumped up and gave Lyndsay the biggest hug! Both of their expressions are perfect and I think this is my all-time favorite picture I have ever taken at the SPCA and I have worked here for 13 years! Roslynn was adopted later that day.
Cenla Cat Project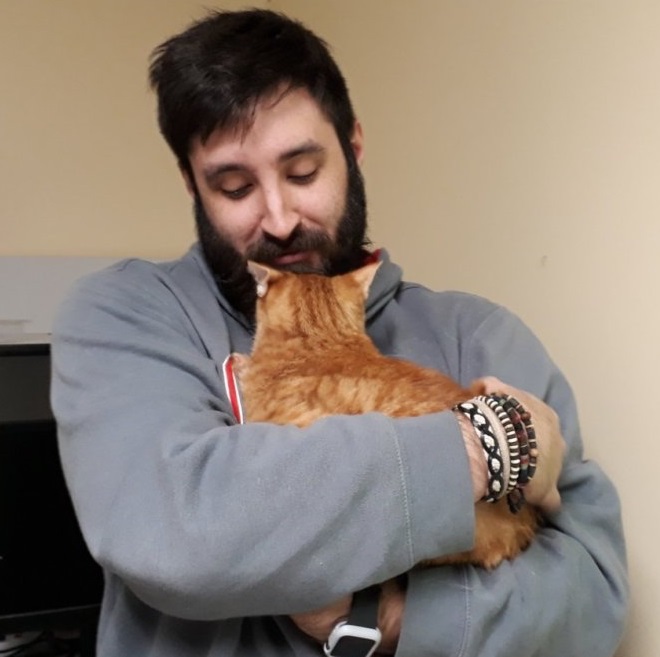 Fostering is a job of both great joy and heartbreak. Natsu was rescued from a garbage transfer station be Francis when he was just 3 months old.  He and his litter mates had been abandoned and left to fend for themselves. Francis gathered them up and took them home. Francis noticed there was something a little off with Natsu. He has a very mild case of CH (cerebellar hypoplasia). Because of his slight wobble, Francis was very protective of Natsu. When a potential adopter contacted us, Francis knew Natsu was on his way to his forever home. Having cared for Natsu for a year, it was a moment touching moment filled with joy and heartbreak when it came time to send Natsu to his forever home. Francis gave him one last hug, told him to be a good boy and let him go. Fostering is both hard  and rewarding. It is difficult to say goodbye, but it fills you with happiness to know the kitty will be a loved and cherished part of its forever family.
Animal Protective Association of Missouri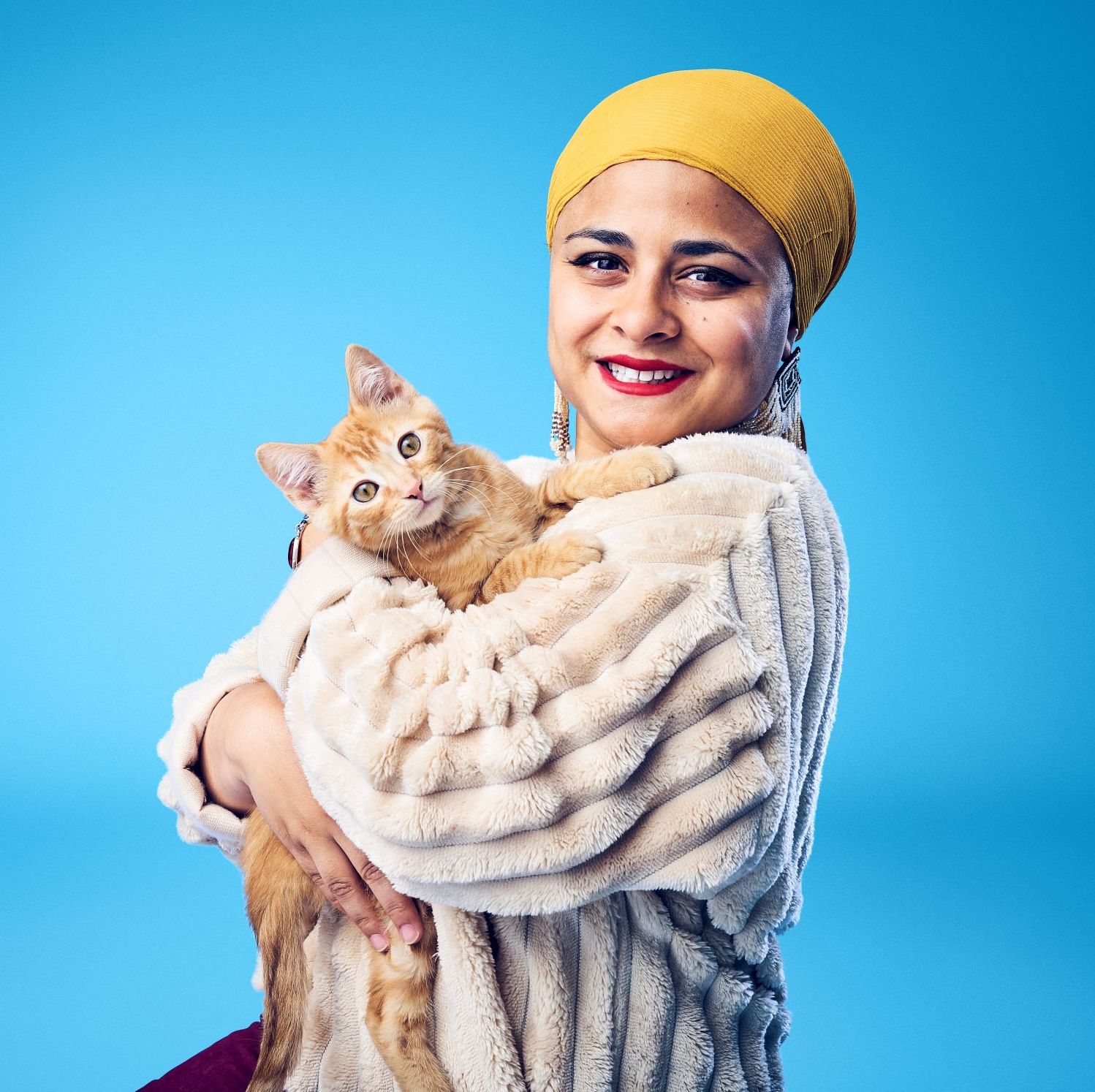 Before coming to the US, Basant was scared of cats and dogs. Growing up, she never had pets. In her second year of school here, her depression symptoms returned and she started seeing a psychiatrist. Basant started to like dogs and her psychiatrist agreed having a pet would help her depression. However, she wasn't ready for a pet of her own and also learned her lease would not allow dogs. So, in 2017, she started fostering kittens. Basant wasn't sure about cats and felt nervous when they would climb on her, but quickly got over that feeling, and it turned into pure excitement. "I loved them so much."

Basant fostered another litter before she had to stop because it wasn't feasible with her roommates and space. "It was very hard on me staying away from cats, that's when I started volunteering in the cat room at the APA." After a while, she decided she was ready to adopt her first pet. Basant noticed a little orange kitten, teasing another kitten in his kennel. He was shy when she reached for him and hid. Basant was patient, carrying and petting him, and after a while he started purring like a machine. She adopted Carrot that day.

"He's a very special boy, he has to greet me every morning and every afternoon when I get back home by jumping in my lap and licking my nose. He's basically my family here." Carrot was found as a shy, stray kitten who was nervous of people. Both Basant and Carrot started out afraid of one another, but together have found love and family.   
Wichita Animal Action League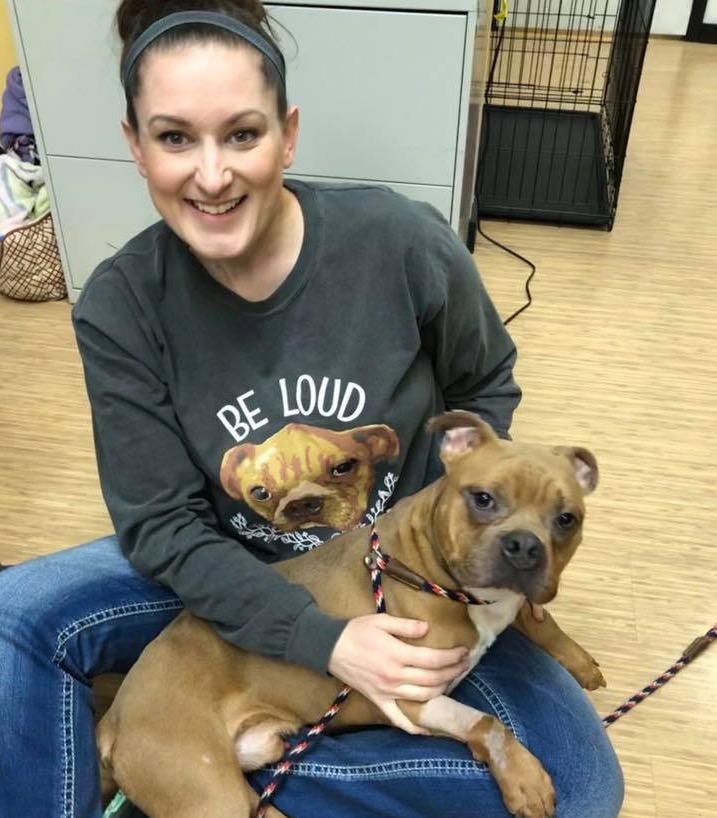 In January of 2020, Bowie was found locked inside a kennel, completely emaciated after he had been thrown into a trash dumpster. Thankfully, a passerby located the authorities and WAAL was able to rush the dog, later named Bowie, to the emergency vet. He weighed a painful 21 pounds and had numerous medical issues related to his neglect. Bowie's story has energized the Wichita, Kansas community into speaking up about animal neglect and cruelty. WAAL created T-shirts featuring Bowie's face and many were purchased. Bowie now serves as a spokesdog for animal cruelty and neglect issues and plans to start making debuts at our local elementary schools during responsible pet ownership presentations.
Merrimack River Feline Rescue Society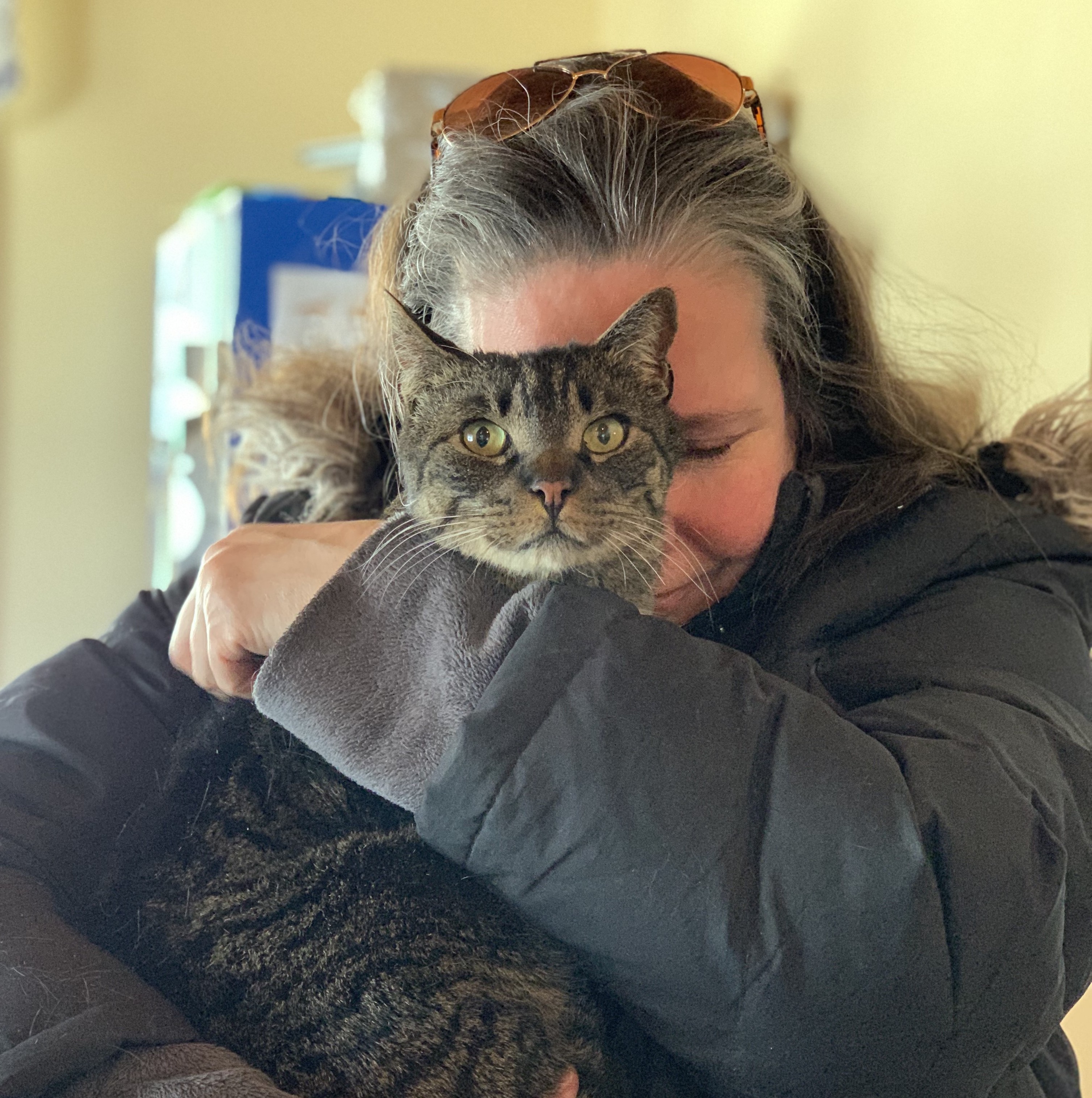 When Elinore Repucci picked up her phone one Thursday evening, she had no idea how life changing that phone call would be. "They asked me if I was missing a cat. I told them I wasn't but they said they had a cat there that had a microchip that was registered to me. I thought, 'No way. No way.'" It was indeed her cat Larry, who had been missing for five years. A kind person had seen Larry eating bits of bread he had put out for the birds, and brought him to the Merrimack River Feline Rescue Society in Salisbury, Massachusetts.  The staff person who scanned him for a chip was happy to find there was a registered owner, and called Elinore to tell her the great news. Larry and his mom were reunited the next morning, amidst a lot of happy tears.  Larry must have had quite a story to tell, after a journey of five years and 25 miles, but he has the rest of his life with his family to share his adventures. 
Sacramento SPCA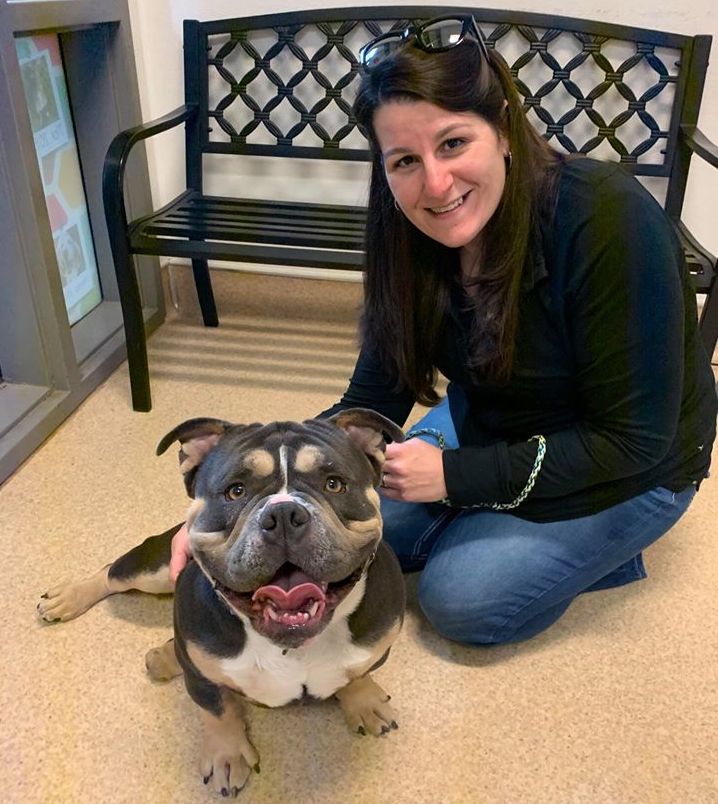 They say timing is everything, but never was that more true than in the case of Amanda and Desi! When Sonoma County was hit with devastating wildfires, the local shelters began to quickly fill up with animals who were being separated from their families during evacuations. Wanting to help in any way we could, the Sacramento SPCA offered to take some of their current animals, so that they would have the capacity and space to help the animals who were being displaced reunite with their families. Thanks to a generous grant from PetSmart we have a spacious transfer van, and were able to take 42 animals out of Sonoma County and into our care. Meanwhile Amanda, who lives in Michigan, came to Sacramento for a trade show and happened to turn on her television as bulldog Desi was being featured in a news story about the Sonoma transfers. Amanda knew she was meant to adopt Desi, so she got permission from her boss to come to the trade show late and showed up at our shelter first thing in the morning to make sure she got to take Desi home! She even cancelled her return flight, opting to rent a car to drive Desi to Michigan since it was the safest way to transport him. The stars really aligned to bring Amanda and Desi together, and the Sacramento SPCA was thrilled to have been able to play a part in getting Desi to his forever home!  
Warrior Canine Connection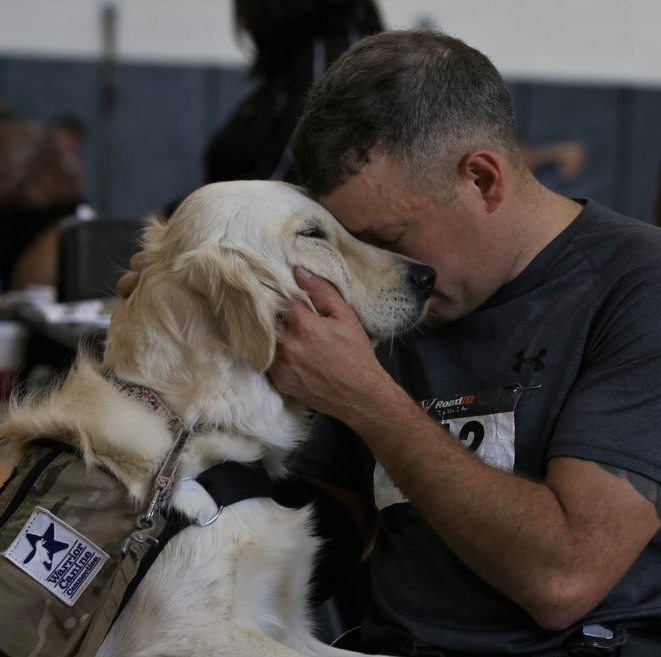 Army Veteran Randy Nieves was wounded in Iraq, incurring both physical injuries and a diagnosis of post-traumatic stress disorder. He received a special service dog named Katie from Warrior Canine Connection (WCC) in 2017.

"When Katie came along it was actually the part of my life when I was really able to take a real deep look inside myself, and find out exactly what I needed to," says Randy. "I don't really worry so much about things when Katie's around. She's just an anchor that holds me in place when nobody else is around."

Warrior Canine Connection's service dogs, like Katie, do so much more than assist just one Veteran in need. Throughout the training of each service dog, WCC enlists wounded Warriors in a therapeutic mission to help train the dogs for fellow Veterans. By doing so, those Veterans receive the treatment they need to heal. In fact, one WCC service dog can help up to 60 Veterans during the duration of the dog's two-year training program. The organization has already placed 70 service dogs with injured Veterans, and enlisted 4,600 Veterans in the training of those dogs as treatment for their own invisible wounds of war.
Nashville Humane Association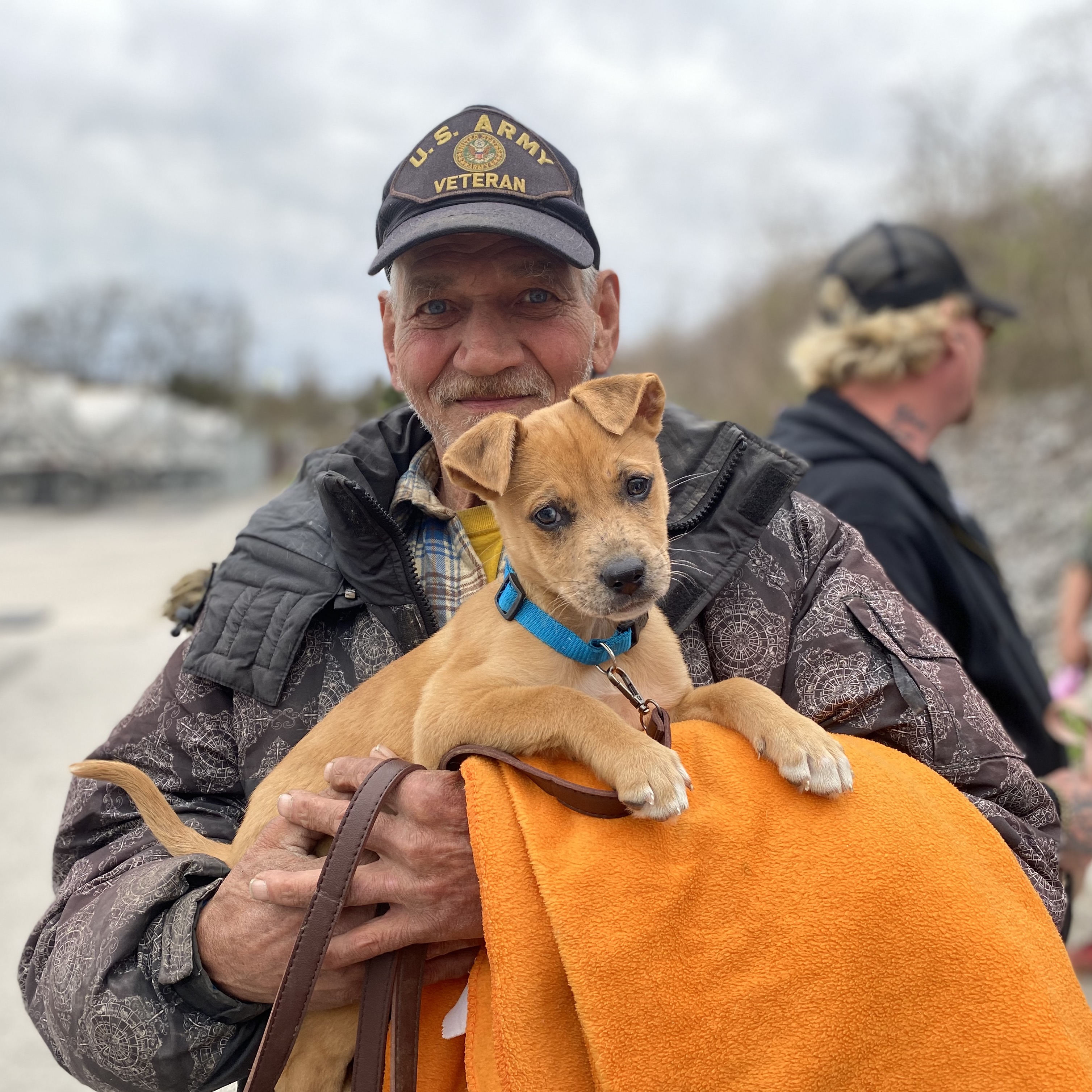 This photo was taken at a homeless camp just a day after the deadly tornadoes devastated the greater Nashville area on March 3, 2020. We were lucky that our shelter was spared, and all our animals were safe, but many others were not so fortunate. We immediately began preparing to provide any relief efforts we could, including the setup of two emergency shelter locations for displaced pets as well as becoming a hub for donations. We had an incredible outpouring of love from the community and with the support of many selfless volunteers, we canvased affected neighborhoods and provided supplies to anyone asking for help.

We received word about a homeless community in need of supplies for their pets. While they were not physically harmed by the tornado, their belongings were damaged. They were not worried about their personal needs, just that of their beloved animals. We started gathering food, blankets, and toys and then considered the possibility that medical attention could be needed as well. One of our staff veterinarians, Dr. Matt, joined our relief team and all the pets living in the camp were brought up to date on vaccinations and given any supplies they needed. This photo is of a veteran and his dog, Prince aka Little Man. The grateful look on his face says it all, the love for his pet and the relief he felt at knowing his pet received the needed care. This was a very moving experience for all of us, and a humbling reminder of why we work in rescue.
The Street Dog Coalition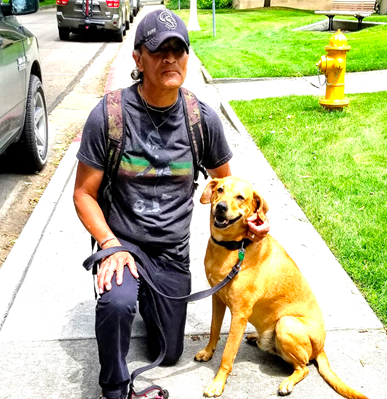 The Street Dog Coalition provides free medical care to pets of the homeless. It was founded in Fort Collins, CO in May of 2015 and that is where the following story takes place.

John-Mark was experiencing homelessness when we met him and his dog, Max. John-Mark told us, "Max is more than a companion, he is the center of my life. We share and breathe the same air. Max and I understand each other. Whatever steps I take, he takes; and when he wants to go 'this way', I go his way, and it becomes a discovery for both of us."

In May of 2017, Max was diagnosed with a rare surgical emergency, and the surgery was successful. Two years later, the condition recurred, and because of a poor prognosis, Max was euthanized humanely. Two weeks later, John-Mark (who is now housed) texted us a photo of him and a dog named Cowboy with the following message:

I asked Max at one time to help me find that right special friend, and Cowboy is what Max delivered me. Cowboy is a year and four months. His previous owner was a military vet who was confined to a wheelchair from a mine explosion in Afghanistan. He was 27 years old when he took his life on Easter morning. An anonymous note was left on my door with a phone number. That person acted as a transitional provider for Cowboy. He is super duper intelligent (that is almost an understatement). He rocks my world with his intelligence and guardianship.

Cowboy and John-Mark are now a pack of two, and neither are lonely. 
Seattle Area Feline Rescue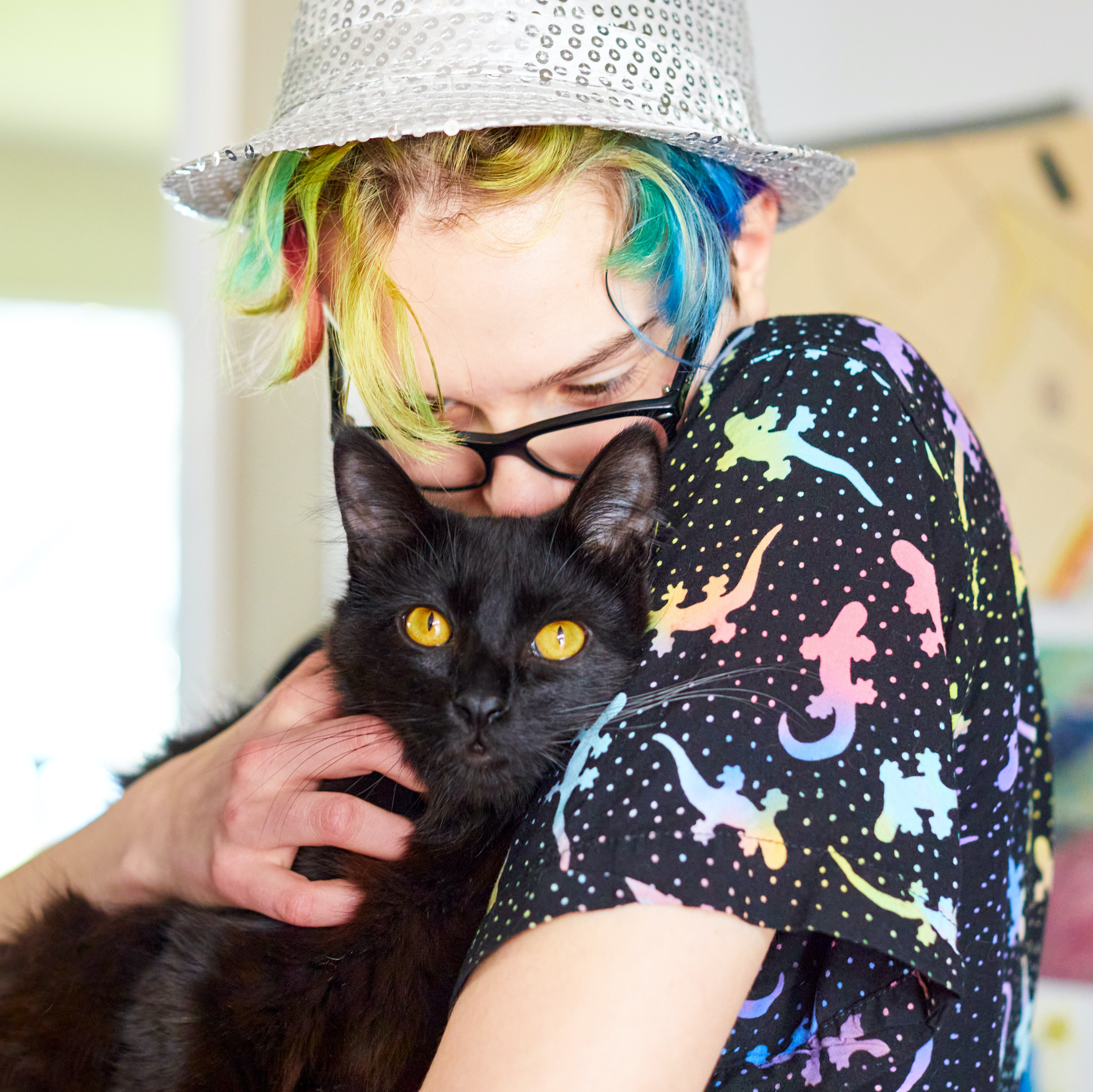 In 2017, PetSmart Charities awarded a grant of $17,412 to SAFe Rescue to fund a program to save the lives of cats infected with ringworm. Years later, this program is still going strong, and SAFe Rescue is able to save many lives each year thanks to PetSmartCharities' investment. Lark is one of these kitties who was treated for ringworm and dislocated jaw. Lark's SAFe Rescue foster family nursed this tiny fighter back to health, hand-feeding him wet food to help him eat through his injured jaw. Little by little, Lark healed and grew stronger. And, his place in his fosters' hearts was growing, too. Lark became inseparable from his human sibling. Whenever Lark felt lonely, he'd mew until his favorite human arrived to scoop him up for cuddles. As you can guess, Lark's family decided to adopt him, and now he's a part of a happy family! Thank you PetSmartCharities for for making it possible for Lark and so many others to find a second chance!